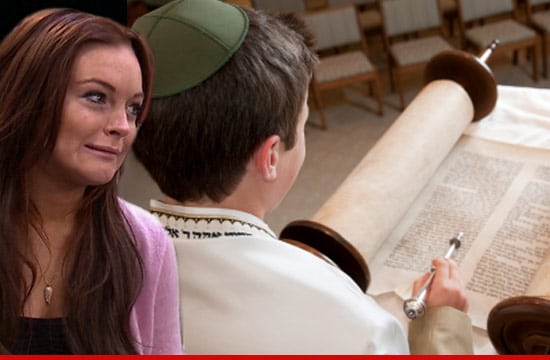 Good news! Lindsay Lohan is now available to be hired for your next wedding and Bat Mitzvah!
Lindsay Lohan still has a sliver of pride left in her.
For a moment it promised to be nirvana for all 13 year old Jewish boys and girls but alas it is not to be after the insistent disclosure courtesy of Lindsay Lohan who has been adamantly denying she is now available for rent at your niece's next bat mitzvah.
It all began when a North Carolina company called 123 Talent (I know so brainiac and original) sent out an email to Page Six in the hopes of engaging their bubbly souls with the upcoming aura of Lindsay Lohan at your next local engagement..
The story of course went viral and for a moment kids where contemplating the allure of doing lines of blow in Uncle Moishes' garden shed with their new found hero.
tmz: What's more — sources close to the actress tell us, Lindsay NEVER signed a deal with 123 Talent and never agreed to let them represent her in any way … so the email is totally bogus.
The CEO of 123 Talent — which still claims to represent Lindsay on its website — tells us, the pitch was NOT bogus but Lindsay's team has since "decided to go in another direction."
The CEO added, "Unfortunately, we are not working with Lindsay Lohan."
Nevermind Lindsay Lohan will still come up with other clever means to navigate her dire finances.
1800 LINDSAY EVERY NICKEL HELPS