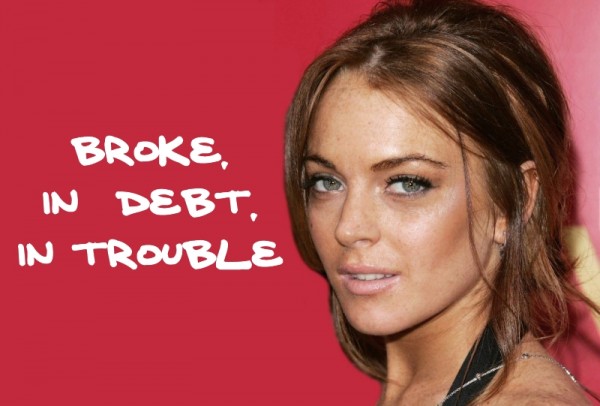 Lindsay Lohan would like to know if you don't mind accepting a delinquent I.O.U promissory bill and a shady handshake in return for your hard earned money?
Oh dear kids, things are certainly not looking too good for our collective media whore, Lindsay Lohan as her stellar existence increasingly and dizzyingly continues to careen out of control. What new mess is our hero in now you wonder?
tmz: Lindsay Lohan is on the verge of losing expensive designer clothes, family heirlooms and potentially embarrassing items … because she hasn't paid her storage bill and as a result the unit is about to go up on the auction block.
Sources close to Lindsay tell us … LiLo has fallen behind on paying her monthly bill  … and now owes roughly $16,000 to the storage company.
The account is now delinquent and the locker can't be opened until the balance is paid in full … and that's not going to happen because Lindsay doesn't have the cash.
Doesn't have the cash cause bixch sniffed it, smoked it and spent it. Kaput. Then add the inconvenience of the IRS cock blocking her bank account and movie roles that never go nowhere and you can slowly begin to see why shit isn't working out too well for our collective darling.
Which means only one thing. Give freely to our LILO. Now, Paypal, Western Union. AMEX. Give anything you can. No hesitation, no refund, no remorse. Save LILO now. Forthwith. Pay as you go…
1800 SAVE A MEDIA WHORE FROM FINANCIAL RUIN NOW
above image found here