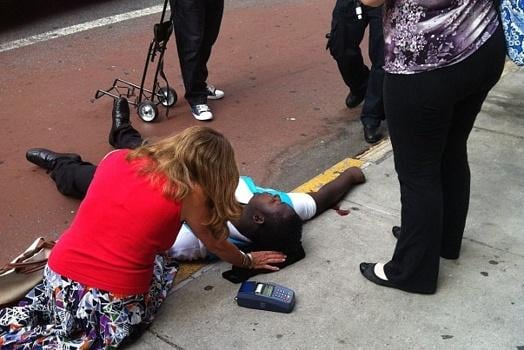 Video: Graphic last moments of Jeffrey Johnson's life. Blood on the gutter.
Jeffrey Johnson, Empire building shooting was an artist too. Bizarre surreal illustrations.
Jeffrey Johnson and Steven Ercolino had a history of harassment actions against each other.
Jeffrey Johnson shot Steven Ercolino once in the head and then once again as he lay dead.
Jeffrey Johnson, Empire State building shooter was a lonely man who had no visitors and wore a brown suit every day
Jeffrey Johnson, Empire State building shooter was a lonely man who had no visitors and wore a brown suit every day
Jeffrey Johnson: Empire State Building shooter identified. Casually killed ex boss.
Empire State building shooting. Commentators react as gun law debate ignites.
Empire State building shoot out was the work of disgruntled fired co worker. Killed his ex boss.
The terror of the gunman is firmly in place in the American consciousness…
Not less than 4 weeks ago when a disillusioned Aurora, Colorado gunman wielded a plan that saw up to 12 dead and up to 50 injured a new horror has befallen the United States as reports are starting to flood in that there has now been another shoot ou, this time at NYC's Empire state building, which this author saw the pandemonium ensuing as he was walking on his way to the office.
With the streets cordoned off and anxious onlookers trying to understand how this latest senseless shooting spree took place (ironic as across the street there were countless billboards tooting brazen action heroes aiming guns at imaginary foes) what is known at present is that the shooting took place just before 9 am this morning resulting at least 2 dead and up to ten people injured. The police immediately opened fire killing the assailant.
The shooting is said to have transpired after a dispute between fellow co workers took place, the shooter then without explanation began shooting innocent pedestrians on the street.
nypost: A disgruntled worker stalked a colleague down a Midtown street, shot him dead and then turned his weapon on random pedestrians outside the Empire State Building — killing at least one innocent bystander and shooting up to seven others before he was cut down by a cop on foot patrol, sources told The Post.
The 9 a.m. mayhem sent commuters and tourists in a panicked scramble from the jam-packed intersection of 34th Street and Fifth Avenue.
"This is the last thing you are expecting to see walking to work – someone shot dead in broad daylight in Midtown," said Sid Dinsay, 38, who works in a PR firm on Fifth Avenue.
"I am shocked – something like this is enough to rattle your nerves. My nerves are rattled right now."
Offered one witness: "I saw a guy lying there covered in blood," he said. "He was in his late 30s. People around him were crying, a police scooter was whizzing by. It was chaos."
Visit NBCNews.com for breaking news, world news, and news about the economy
At this juncture no known reason is understood why the shooter took aim at pedestrians, how he acquired a gun, why he had brought a gun to work (unless his work required having a gun?) or what the state of mind of the shooter was prior to the shooting.
What needs to be asked now how is that our society has relapsed to the continual outpouring of gun violence, how we as a society can stem this type of senseless violence and what is it about our culture here in the United States that makes the choice of gun violence such an easy and deadly option.
Such are the frailties and banalities of an action packed society that chooses not to refrain from its vision of itself that violence comes hand in hand with self determination.
At present the identity of the shooter has not been released.