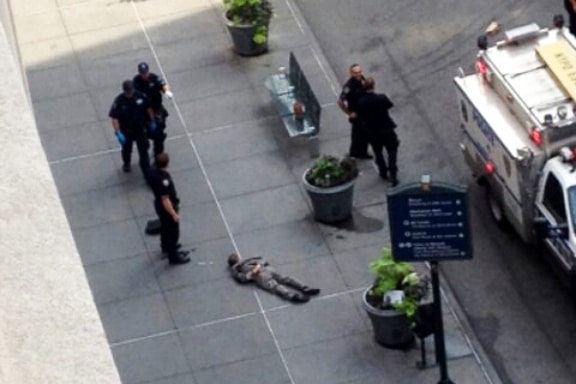 Video: Graphic last moments of Jeffrey Johnson's life. Blood on the gutter.
Jeffrey Johnson, Empire building shooting was an artist too. Bizarre surreal illustrations
Jeffrey Johnson and Steven Ercolino had a history of harassment actions against each other.
Jeffrey Johnson, Empire State building shooter was a lonely man who had no visitors and wore a brown suit every day.
Jeffrey Johnson: Empire State Building shooter identified. Casually killed ex boss.
Empire State building shooting. Commentators react as gun law debate ignites.
Empire State building shoot out was the work of disgruntled fired co worker. Killed his ex boss.
Empire State Building gunman opens fire, kills 2, ten injured. Pedestrians were hunted.
The identity of the Empire State building shooter has been identified as Jeffrey Johnson, a 58 year old former designer/employee of Hazan Imports which was located inside the Empire State building.
According to witnesses, Mr Johnson was said to have casually walked up to 41 year old Steven Ercolino, a store manager at the design store and at point blank shot him in the head where he died immediately.
blogs.wsj: "He was an incredible family man, loved his family," said a woman who identified herself as Mr. Ercolino's sister-in-law, Andrea.
Mr. Ercolino did not have children, she said, but was the "best uncle to my children." She described him as generous, fun-loving and compassionate, and said he loved his job selling handbags.
"He had an incredible life ahead of him," she said. "He was an incredible person."
A nearby construction worker heard the commotion as Mr Johnson then continued on the street pavement to now shoot passerbys, shooting as many as up to ten individuals before turning his gun, a .45 magnum at them before being shot dead by the attending police.
nytimes: Mr. Kelly said that the two officers fired a total of 14 rounds and that he believed some of the shooting victims had been shot by the officers "based on the number of people shot and the capacity of" the shooter's weapon.
Continues the nytimes:
A woman who worked with Mr. Ercolino and has a job in the same building as Mr. Ercolino said she was walking shoulder-to-shoulder with Mr. Ercolino when he got shot.
The co-worker, Irene Timan, 35, said they were just steps from the front door to their building on West 33rd Street when she saw Mr. Johnson lurking behind a white van parked at the curb.
"I saw him pull a gun out from his jacket, and I thought to myself, 'Oh my God, he's going to shoot him' — and I wanted to turn and push Steve out of the way," Ms. Timan said, in a telephone interview from the precinct house where she was being interviewed. "I knew it, I just knew it was going to happen. But it was too late. Steve screamed, Jeff shot him, and I just turned and ran."
It is believed all those injured will survive.