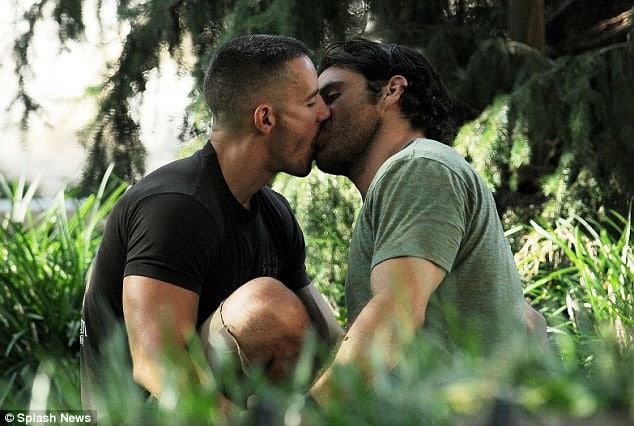 Oh?! Did Anderson Cooper forgive his boyfriend and take him back? Seen on the yacht…
Anderson Cooper dumps his boyfriend and calls off engagement.
Oh my! Anderson Cooper's boyfriend busted cheating. Anderson mum for now….
Whether he likes it or not, Anderson Cooper may be forced to issue a statement with respect to new photos surfacing this weekend via the dailymail which show his long term live in partner Ben Maisani intimately kissing in a NYC park.
The photos of course couldn't have come at a worse time as the couple were said to be getting married as soon as this upcoming Labor day. Now that day may never come.
Although a private matter, such instances of open betrayal (or do these two have an open relationship?) put great pressure on the very public couple to come clean about their affairs. With Mr Maisani the owner of popular gay nightclub Eastern Bloc in the East Village and Mr Cooper a widely revered anchorman and correspondent for CNN as well as the son of family scion, Gloria Vanderbilt (who has been urging her son to marry).
It may have been in the past such affairs were sweeped under the carpet but with instant gratification of new media and social media the impetus to make some sort of commentary will be enormous on the couple who whether they like it or not curry a wide following and appeal.
To date Mr Maisani has not reacted to the photos nor has Mr Anderson (his normally very active twitter account sits strangely quite which in itself is a statement) although the strain will be more than apparent as Mr Anderson will be forced back on the airwaves this week with millions of people wondering as they watch will he or will he not discuss the issue and how will he even manage to keep a straight face.
These are it seems the terrors of becoming a mass market idol, one along the way is forced to feed the public that have helped put you in the limelight. Although one indication is that it did take Mr Anderson quite some time to openly come clean about his sexual identity, not that he ought to in the first place. Then again sexual infidelities (it hasn't been disclosed to what degree Mr Maisani is involved with the man in the pictures) are rarely ignored or not commented upon. Expect some kind of statement, tweet or acknowledgement from Mr Cooper in the very near future….
Oh dear! My hero Anderson Cooper is now marrying his boyfriend.
Anderson Cooper publicly comes out and admits he's gay. Still my heart throb…
Anderson Cooper to asshole passenger: 'Bixch, what are you doing?'