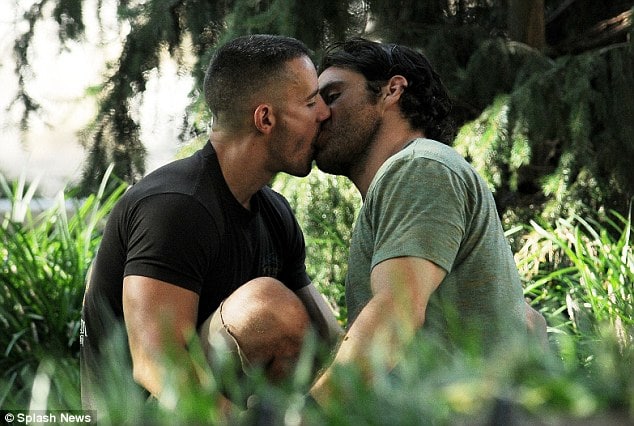 Oh?! Did Anderson Cooper forgive his boyfriend and take him back? Seen on the yacht…
Anderson Cooper dumps his boyfriend and calls off engagement.
Anderson Cooper's boyfriend cheats but will Anderson issue a statement?
What will Anderson Cooper think now?
Seems like cheating behind your loved one's back has become the nom de plume (and getting caught by the paparazzi whilst at it) these days amongst celebrity figures, and that too now includes Anderson Cooper's live in hawt bixch to go Ben Maisani.
According to the dailymail who first posted the pictures (yes the English are always on top of their sleaze and scandal) via Splash photo agency, the pictures (taken in a park in NYC very recently) show Anderson Cooper's long term boyfriend 39 year old Ben Maisani in intimate embrace with another unidentified dark haired muscle bound man (well if you're going to go for it please be gorgeous) with hands and lips locked and let's not ask what their tongues were doing.
What perhaps make the surfacing of the images most ironic is how Anderson Cooper and Ben Maisani have been widely speculated to marry each other as soon as this upcoming Labor Day. This all follows off the back of Mr Cooper, CNN's anchor recent coming out to the Daily Beast about his sexuality. Not that there ever was a doubt that Mr Cooper is gay, but then again it wasn't something that Mr Cooper (quite rightly in this author's opinion) had to make necessarily public. Then again Mr Cooper does have a wide following and is seen as a kind of hero and role model whose actions speak volume. So perhaps it was a thoughtful gesture on his part to let the world in on his private life, and yet now that may have just come to bite him on the ass as speculation is sure to follow as to the nature of his personal affairs (just when he had cleverly doused such speculation by coming out).
What does come to mind is whether Mr Cooper and Mr Maisani have an open relationship where the revelation of either gentleman indulging in the company of either men is par for the course in their affairs. That of course may not necessarily sit quite well with Mr Anderson's fans or the television network that he works for as it would surely rather strive to portray a more squeaky clean image of Mr Cooper, as one of its chief and talented anchors and correspondents.
Then again it could simply be an instance of Mr Maisani taking liberties behind his partner's back and if so the question now is will Mr Cooper overlook the transgression (that of course would be politically untenable) or will he be giving Mr Maisani his marching orders? Other questions that come to mind is this the first time Mr Maisani has been involved with another man (what is the extent of their involvement, ie are conjugal relations the order of the day?) whilst involved with Mr Cooper or for that matter if Mr Cooper himself has been involved with other men? Which is to say what's good for the goose is good for the gander.
To date Mr Cooper has not publicly indicated his response to the scandalous images but once again the public will be watching quite closely as to ferret a hint as to his state of mind. Such are the affairs of our beloved and talented, then again perhaps it's just the way of the world….?
Oh dear! My hero Anderson Cooper is now marrying his boyfriend.
Anderson Cooper publicly comes out and admits he's gay. Still my heart throb…
Anderson Cooper to asshole passenger: 'Bixch, what are you doing?'