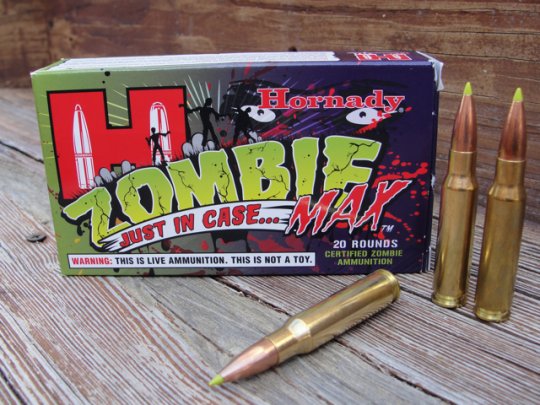 America is finally safer from zombie attacks….
Fear not, your life is safe as Hornady Manufacturing finally comes out with 'Zombie Max,' life saving bullets to of course save your life from flesh eating zombie attacks.
opposing views: Company spokesman Everett Deger told WWJ Newsradio 950 that these Zombie Max bullets are meant for targets, not people [living or dead]: "After it gained some acceptance among some of us here in the company got on board with the idea we decided just to have some fun with a marketing plan that would allow us to create some ammunition designed for that … fictional world."
"This is probably one of the only [product] launches that we've seen when people who are not in the hunting and shooting industry will go out and they will purchase this. I mean, I've heard of guys who buy it just because they think the packaging is cool and they set it on their cube and they don't even own a gun."
Why be a victim of a zombie attack when you can shoot one down now! Call now and we'll send you a life-size zombie doll to shove under your mattress. The first 3 billion callers get $9.99 off our already deeply discounted price.
Shouldn't you try to protect your loved ones if someone tries to eat their face?
New drug 'cloud nine' said to behind zombie attacks.