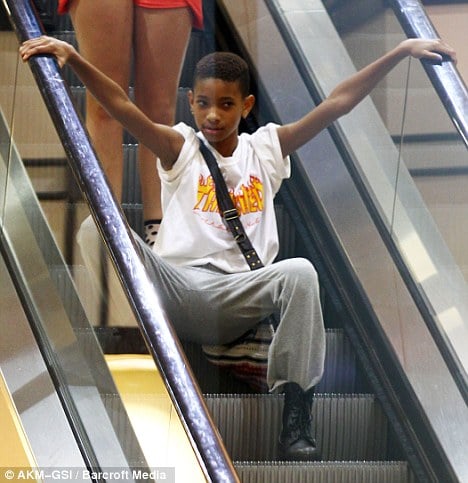 Willow Smith just loves to be the center of attention these days. She's gone and shaved her head, has been instagraming pictures of her new "fake" tonguering and now she has taken it to a whole different level by dancing/squatting on escalators while shopping at Barnes and Noble.
Doesn't Willow know that if she wants to dance around glammed out in public all she has to do is call daddy Smith to set up a video shoot? Come on, well all remember his hit single Miami.
Leave the escalator dancing and mall hopping to those of us who can't afford such luxuries please!
But I guess when you're a child's star…all the worlds a stage anyway.
Speaking of child stars, where's her brother Jaden? Not at the mall making sure his little sis is safe and sound? Tisk tisk…I'm sure if asked he'd just say that's what the body guards are for.
via dailymail.co.uk