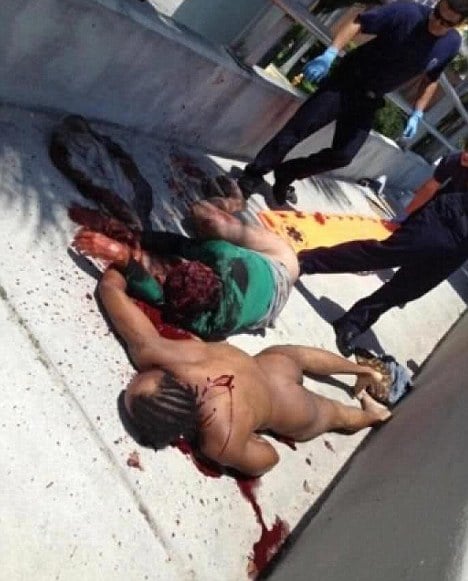 Authorities have released a graphic image moments after Miami cannibal Rudy Eugene was shot dead after eating off the face of homeless man Ronald Poppo.
The perpetrator can be seen naked next to his victim who at the time of the attack had been asleep by the side of a highway. The image has been released pursuant to revelations that Poppo is now alert and awake, with his left eye permanently gone and doctors hopeful they may save vision in his right eye. Also missing is his nose which was chewed off during the attack. Interestingly investigators determined that Rudy Eugene had no human flesh in his stomach after an autopsy was done on his remains.
To date $15 000 has been raised towards the rehabilitation of the homeless man, he is also eligible for medicaid. Surprisingly doctors attest he has not complained once, although at this rate he might be resigned to the fact that he is still alive despite setback after setback or simply unable to come to terms with the enormity of what he has undergone.
Such are the banal affairs and consequences of some of life's most virulent moments.
Zombie Max is finally released to protect you from zombie attacks.
New drug 'cloud nine' said to behind zombie attacks.
New drug 'cloud nine' said to behind zombie attacks.
Video: Cops kill naked man eating his victim's face.