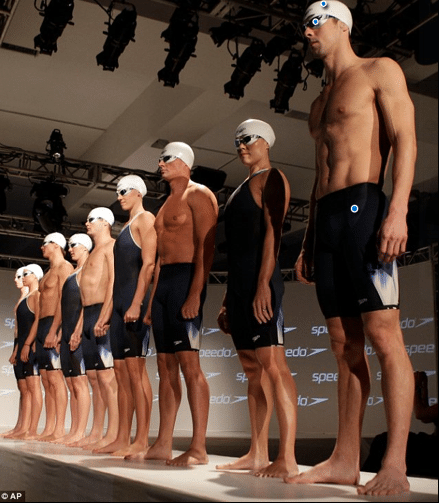 After having their full body swimsuits banned at the FINA World  Championships in Rome in 2008 and striking all matter of controversy, Speedo went back to the drawing board and came up with the Fastskin 3. The message they're telling everyone now is expect to see world swimming records tumble.
Incorporating a cap, goggle and suit (all fitted for maximum efficiency), the 3 piece outfit is meant to work in unison to reduce drag  and increase oxygen economy. If of course you thought you were witnessing the redesign of a sports car for grand prix driving perhaps you wouldn't be too far off the mark as even the sport of swimming is now looking to take advantage of prevailing technology to give swimmers a chance to clock even faster times.
Of course there are those that say such efforts debase the efforts of the swimmers themselves and give them advantages that the naked body would never have. Perhaps true but with the 2012 Olympics around the corner and with most sports looking to sex up their image and attract ever more viewership and of course sponsorship dollars it was only a matter of time that even the seemingly docile pursuit of swimming would be reconfigured to approximate the desire for spectacle.
One drawback as one commentator mentions is that the girls wont be as good to look at anymore (yes like you I'm mortified that anyone could think that we watch female athletes just to watch their physical bodies in exertion…) but at least the dowdy look of the fastskin 3 will make up for things with new and improved world records, something that ought to put a cheer with the Olympics committee and the sponsors of course…