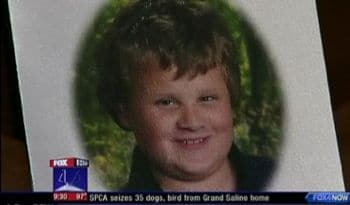 When I was growing up, if I misbehaved the worst I'd expect to receive was a quick backhand to my rear end and a thorough scolding. Not so in the case of one young boy, Jonathan James who had the misfortune of collapsing and dying in front of his twin brother, Joseph, after he was deprived of drinking water for 5 days as punishment.
And why was Jonathan punished? Because he made off with his brother's guitar strings. Which makes me wonder, what would the punishment have been had Jonathan run off with the guitar instead? Actually I don't have the courage to begin to wonder..
But just in case you're not completely flabbergasted, there's more. Brace yourselves…
Apparently after Jonathan collapsed, Jonathan's parents, Michael Ray James and Tina Maria Alberson opted to put him in the bath that way when authorities were finally called over, they could explain to them in a matter of fact way that Jonathan had been feeling ill lately and that  by placing him in the bathtub all they were trying to do was cool off their boy.
That of course is not the way authorities saw it after they did some snooping around…
Sent in for an autopsy it was later decided that Jonathan had in fact died of dehydration, which is consistent to being deprived water for a certain amount of days. In the absence of complete ignorance Joanthan's parents must have been completely aware what they were subjecting their son to.
If convicted both parents could expect to face a total of 99 years in prison. Such it seems are the disdainful affairs of certain child rearing arrangements in certain families….
10-Year-Old Victim's Twin Wanted to Help: MyFoxDFW.com