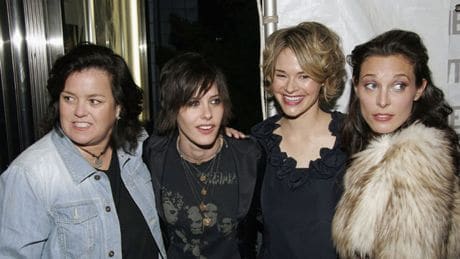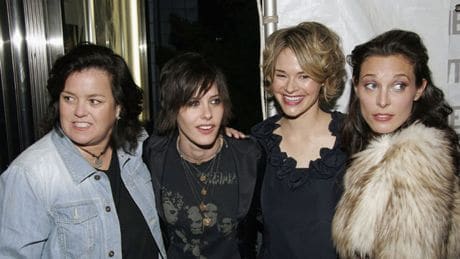 Britain's Sunday Times published a highly newsworthy article last week enlightening readers on the sudden rise in lesbian popularity. Apparently, if you have lesbian friends you should really start hanging out with them more often because their being "out" is actually very "in" this season.  I don't know about you, but I feel so much better knowing that the Times approves of my lesbian friends. I guess I can stop hiding them and finally start showing them off!
Why are lesbians suddenly all the rage?  Well, because straight women won't have to worry about their husbands cheating on them of course! What better methodology for choosing friends than basing it on your own marital insecurities?  As it turns out, British couples are so fond of their lesbian friends that they prefer calling them "lesbo" rather than their real name, as is typical when addressing a human being.
For those of you who don't have any lesbian friends (which is totally understandable seeing as they weren't last season's top accessory) don't stress because the Sunday Times has even gone through the trouble of putting together a list of how to spot one in your own neighborhood.
The DJs:
Find them: On the decks at a fashion party, or falling out of the Box after pulling an A-lister. Signature look: Justin Bieber fringe, American Apparel T-shirt, low-slung Carhartt jeans, wallet chain and Louis Vuitton high-tops by Kanye West. Make friends with them: With some straight-up tonsil tennis.
The fashionistas:
Find them: On the front row, or hovering around Helmut Lang in Selfridges. Signature look: A fierce bob, Céline blazer, bodycon dress, killer shoes and the latest It bag (currently pushing a stripy Prada clutch). Make friends with them: Working out with Tracy Anderson (in Adidas by Stella McCartney).
The latecomers:
Find them: At their kids' parent evening. Signature look: Channelling pin-up Ellen DeGeneres, in slacks and boyfriend blazer (sleeves rolled up, all the better for flashing that new tattoo). Make friends with them: On an Ottolenghi cookery course – since their ex left, they've embraced lentil quiche.
The "DJ" category is definitely understandable. Samantha Ronson basically re-created the whole rock-glam lesbian look and made it sexy. Lindsay Lohan put Sam on the celebrity map and for this we applaud you Lindsay.  People love Sam for her indie rock 'n roll style and her 'don't care' attitude.  Plus, her sister Charlotte is an A-list fashion designer, making these two quite the power family.
Portia de Rossi will serve as our resident "fashionista" lesbian. Her gorgeous looks and whimsical charm made her coming out hard for many people to wrap their heads around.  How could someone so pretty be a lesbian?  To which I say, crazier things have happened.  This earthshattering day challenged everything the average American thought they knew about girls who like girls. No, not all lesbians are the butch softball-playing types. Socially deemed 'attractive' women are also capable of homosexuality.
The "latecomers" are the Ellen DeGeneres' of the world and I suppose by default, the Rosie O'Donnell's as well.  I'm going to guess that Ellen is the most beloved celebrity lesbian around; at least she is in my book.  I'd also have to place fitness trainer Jackie Warner into this category.I was strangely addicted to her show on Bravo and remember being quite impressed with her washboard abs and enthralling love life.
Although the hilarity of this Sunday Times article astounds me, I am happy that lesbians are finally getting to share the spotlight with their male counterparts.  Every girl in New York has at least one "gay husband" and now we can have our own pet "lesbo" too.
A BISEXUAL COMES OUT OF THE CLOSET.
GIRLS WHO DO GIRLS AND OTHER INNUENDO…