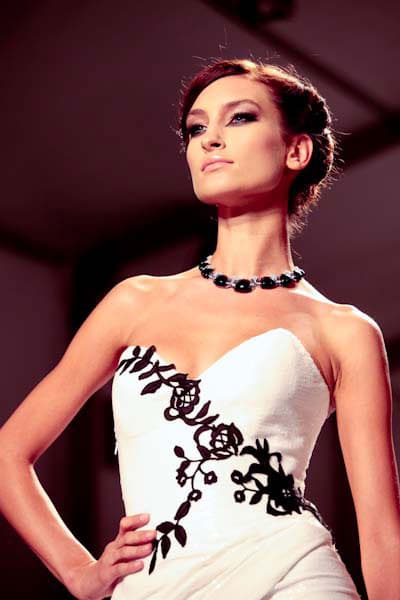 Coming to Katie Stern's spring collection – courtesy of Venexiana was about giving all you high minded ladies lessons in savage form, sleek lines and the haughty feeling that even if you belong (or would like) to belong to 5th avenue her heart is firmly placed on Boulevard St. Germaine, Paris, where bohemia, luxury and well spent afternoons drinking Campari at Café de Flore is the preferred disposition of the kind of girl who dares share a seat with Stern or her sophisticated outfits.
With reference to romantic undertones Stern had her girls strut so hard down the plank that one had to look for sunglasses to keep off the glare. With accent to collars, bow ties and French lace Stern's collection went for the high minded tone that one is obliged to be supine and stunning at the same time and anything less would be a violation of her high minded ethos.
Strutting to electro glam rock (yes the preferred catwalk jingo this year…) one had the thought that perhaps they were trespassing as they waltzed through some imaginary Viennese courtyard, cocking their shoulder blades wide and back to allow you to soak in the sleekness and tapering of design.
With the dominant theme being that of a sleek sequined white dress with floral motifs, and French lace and fuchsia colored party gowns we were once again reminded NY may be where business is done but the boulevards of Europe are where our hearts ache for. One can thank Stern for taking us there, a sleek and high mighty affair, but only the brave need apply…
Click here to go to Scallywag's Photo Gallery.