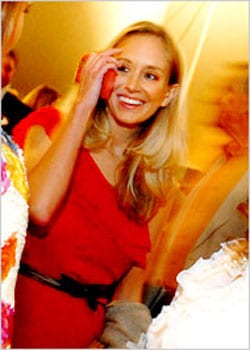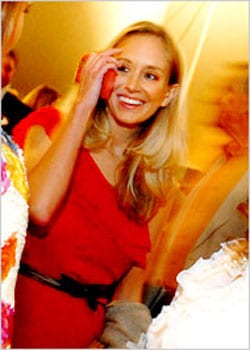 The making of an internet darling and other adventures.
Oh, woe to be a well sought after editor in the 'blogosphere' world. But that is what our dearest (and we do mean that in that all sincerity!) MS.HRUSKA an unlikely but very much admired hero of the internet world has had to succumb to.
We read with intrigue in this weekend's edition of the NYT's Style section of how a purveyor and ingénue of the glam and gossip world Ms.Hruska has been able to captivate a broad enclave of society's most desirable set. Ardent fans of Ms. Hruska and her guilty pleasures site –guest of a guest we wondered out aloud the travails that a burgeoning editor has to continuously succumb to in order to give us the guilty pleasures we all crave. From the frozen salaries (which we lament ourselves…) to the dearth of nightclubs that one has to pay homage to (even as Ms. Hruska admits her less than admirable affection of) and those early early mornings.
Ahh yes, it's hard work being an unlikely hero, and of course we're glad Ms.Hruska is doing it.
Then again our sympathies for those 6am wake up calls, such is the (high) life