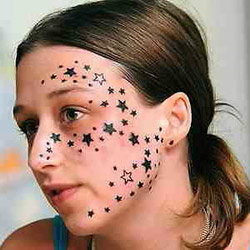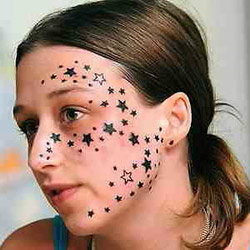 The tattoo girl's adventures really get more interesting now…
Do you remember the time when you got your first piercing, tattoo, boyfriend, girlfriend etc and when you came home to show daddy how upset he got? Do you also remember the lies you used in order to calm daddy down? ("Of course he just didn't get out of jail daddy, etc…")
Well of course you do because this weekend past Kimberly Vlaminck a Belgian native caused all sorts of consternation when she claimed the 56 'star' tattoos on her face were not of her doing but the person putting them on –while she accidentally fell asleep.
We've never had a tattoo, but the question does beg, who in their right mind would not be grimacing in pain as some electric ink gun is blasting against your skin. The idea of falling asleep while drinking chamomile tea is believable but over an ink gun -we think not.
Oh well, we guess daddy wasn't too happy when Kimberly came home to show off her new conquest. Maybe next time she'll think of a better lie, just like you did that time….or better still next time put 56 stars on her derriere as opposed to her face.