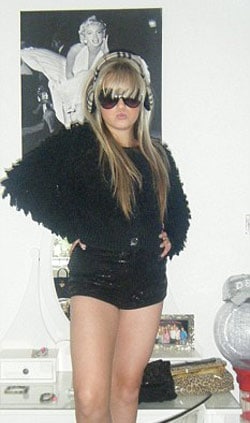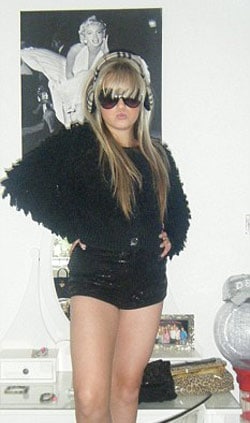 When eleven year girls want to grow up to become like their idols Paris Hilton…
Brogan Mackay lives life large, very very large, and that's despite her being only 11 years old. Daughter to Allison and Stephen Mackay, a hairstylist and a plumbing supervisor respectively this little girl is sure not getting the short end of the stick. If she were to get the short end of the stick, it would of course be a 'designer stick,' like the 25 pound Burberry dummy her parents bought her when she was born.
Call it a case of parents wanting only the best for their daughter, or call it a case of misguided values. But what Brogan wants is what Brogan gets, and to be sure Brogan gets a lot.
Brogan can quite confidently vouch for Gucci loafers, Jimmy Choos, the latest Prada handbags, and even gets the occasional nail extension, hair lights, and for her recent eleventh birthday , this girl from Scotland managed to get herself a pure bred Western High bred terrier, just like her idol- you guessed it Paris.
It should strike no surprise that Brogan is already the class leader, and teachers are over awed by her designer fatigues, so over awed that all the kids in school have voted her most popular and now all want designer threads themselves.
Already aware of the glamour world that Brogan hopes to someday perpetuate ad infinitum, Brogan is already coaxing her mother to allow her to have a 'boob job,' so she can go on and become a glamour model.
In any event, we think Brogan is a very interesting child and we'd be intrigued to have tea with her, but we're afraid she might be disappointed if we refused to offer to buy her some champagne.
Oh well, when little girls don't want to be little girls until one day they wish they were still little girls…