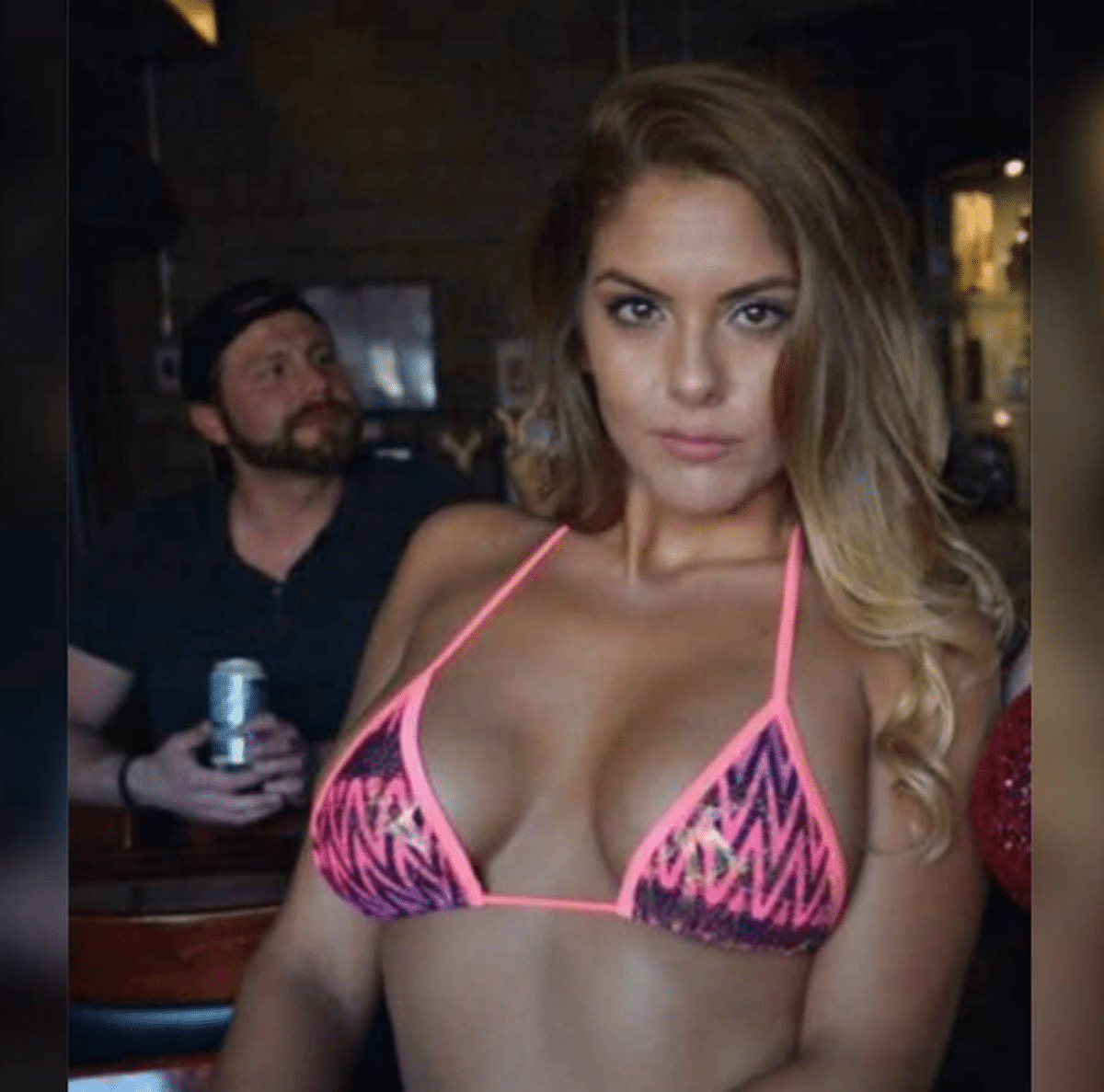 Katherine Leigh Mehta aka Max McIntyre: Welcome to the misadventures of a Texas wedding photographer aka Maxim swimsuit bikini model as seen The Springs Event Venue over the weekend. 
Also making her tabloid debut is Texas wedding photographer du jour, Katherine Leigh Mehta.
The belle du jour who also moonlights as a swimsuit model is causing heads to swoon following her arrest Saturday after having a physical liaison with a male guest and then urinating on a nearby tree according to cops.
According to the Fort Worth Star-Telegram–Katherine Mehta, 26, was arrested at The Springs Event Venue in Weatherford — about 30 miles west of Fort Worth,  after an off-duty sheriff's deputy working as a security guard was alerted to our collective heroine 'getting it on' with a guest in a room at the Parker County event space.
Sheriff's officials said Mehta — who also works as a model under the name Max McIntyre, was confronted over the tryst, with officers telling her to leave. Instead Mehta was observed strolling up to a nearby fountain and starting to yell.
But it gets better…
Katherine Leigh Mehta: 'Y'all families will be dead by Christmas, y'all's daughters are dead,' 
Mehta continued walking to a tree whereupon she urinated. Upon her arrest, our collective vixen proceeded to threaten relatives of arresting officers as they led her to the back of a police cruiser.
'Y'all families will be dead by Christmas, y'all's daughters are dead,' Mehta told deputies. 'My dad is going to find out about this and y'all are [expletive] dead. D-E-A-D.'
Mehta, who was booked with public intoxication and obstruction/retaliation, was released from custody Sunday after posting bail following her arrest.
Investigators said a prescription bottle of Alprazolam — commonly used to treat anxiety and panic disorders — was found in Mehta's jacket. The prescription was in her name and deputies believe she mixed the drug with alcohol, which can lead to dangerous side effects, including extreme drowsiness, nausea and confusion.
Katherine Leigh Mehta: 'Things turned into a negative way…'
In the aftermath of this weekend's fiasco, a woman claiming to be Mehta's sister told WFAA Mehta unwittingly drinking spiked drinks during the ceremony.
'She said she went outside and she said these two men tried to approach her and do inappropriate things,' the woman told the station. 'And she said she was yelling and trying to get help, and things got turned around in a negative way.'
In a statement the venue said the incident 'occurred privately between two vendors unaffiliated with our venue. 
'Police officers handled the matter discreetly — no guests were involved or disturbed from celebrating the couple in any way,' The Springs Event Venue said. Do you suppose?