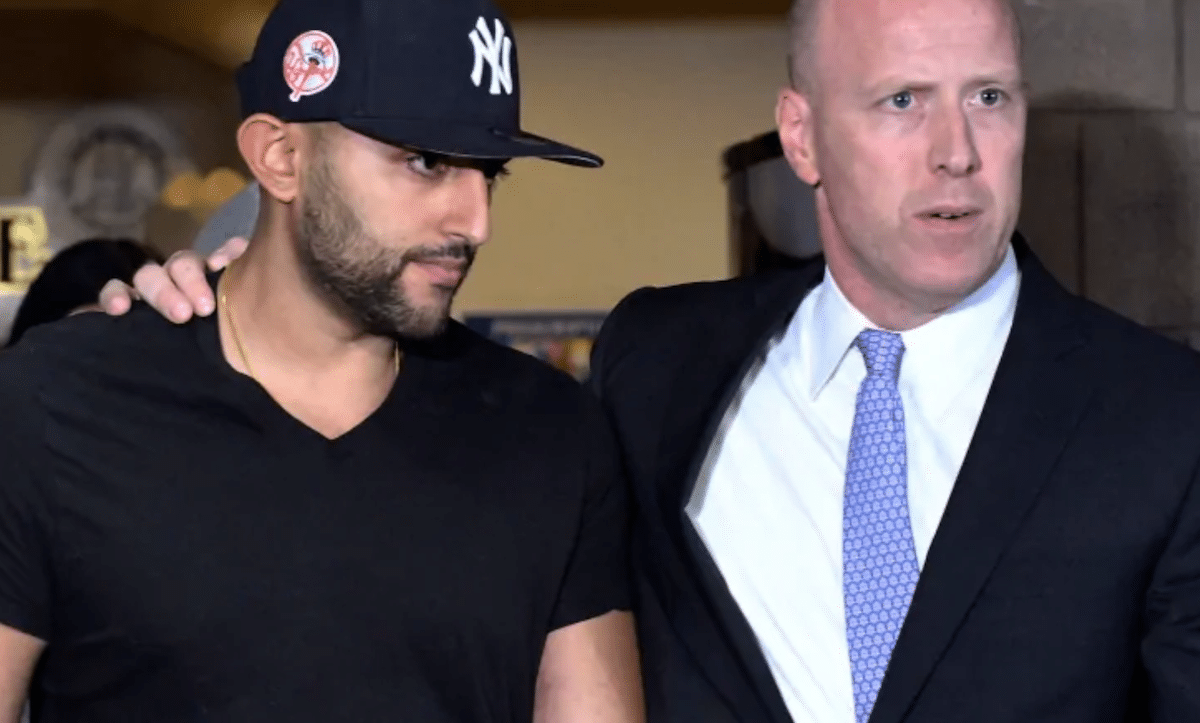 Nauman Hussain Prestige Limousine owner's son charged with criminally negligent homicide in Schoharie crash that killed 20. Family Lawyer challenges NY state claims.
The son of the owner of the limousine company behind Saturday's crash in Schoharie, upstate NY that killed 20 has made bail following his arrest early Wednesday morning. 
Upon being taken into custody, Nauman Hussain– with the 28 year old man charged with criminally negligent homicide. The felony charge carries 1 1/3 to 4 years in prison.
The Democrat and Chronicle reported Hussain arrested during a traffic stop on Interstate 787 in Waterville.
Come Wednesday night, the Times Union reported Hussain being released after being arraigned in Cobleskill Town Court and making bail, which had been set at $50,000 cash and $150,000 bond. The man pleaded not guilty.
#NaumanHussain released after posting $150,000 bond at his arraignment. He's charged with criminally negligent homicide in the #Schoharie limo crash. pic.twitter.com/XqJklbIRLj

— Esha Ray (@ByEshaRay) October 11, 2018
Nauman Hussain Prestige Limousine owner's son bears culpability after DOT placed vehicle out of service:
The son's arrest follows, NY State Police Superintendent George Beach saying Hussain previously being issued written violations by the NYSP and the Department of Transportation noting that the 'driver he hired should not have been operating the vehicle' from Saturday's crash. 
'That vehicle was placed out of service by the DOT and should not have been on the road,' Beach said during a press conference.
'The sole responsibility for that motor vehicle being on the road Saturday rests with Nauman Hussain.' 
On Wednesday reports told of Scott Lisinicchia – who was behind the wheel of the 2011 Ford Excursion before the crash – having been cited for operating the same limo without a proper license by a state trooper on August 25. 
The Department of Transportation contacted Hussain about the citation and Lisinicchia was told he was 'out of service' and could not drive 'any motor vehicle' for any commercial motor carrier until he got the required permit.
It has since been revealed Lisinicchia still did not having the required permit when he drove the limo on Saturday. 
Hussain's father Shahed, who owns Prestige Limousines while Hussain manages day to day operations, is also part of the continuing investigation, according to Beach.
Shahed is currently in Pakistan for a medical operation and has 'signaled his willingness' to return to the US to help the investigation, according to Hussain's lawyer Lee Kindlon.
Beach said he does not have the legal authority to ask Shahed to come back to the US. 
The statements follow a dossier revealing the father's questionable ascent in the US after his family paying off Pakistan officials allowing him to flee murder charges before arriving in America -to only pursue further questionable activities and forced to make a deal with the FBI to avoid jail in the US.
Lee Kindlon attorney for Nauman Hussain pic.twitter.com/BZKiiavgFB

— Benita Zahn (@BenitaZahn) October 10, 2018
Nauman Hussain Prestige Limousine family lawyer, 'my client is not guilty'.
While the son currently only faces one charge in the 20 deaths, there is a possibility that he could face additional charges in the future upon the case being sent to the Schoharie County District Attorney's office.  
Told Lee Kindlon during a press corps meeting, 'My client is not guilty. The police jumped the gun,'
'Even the most simple investigation done well takes months,' 
'The time frame [for this investigation] has been compressed.' 
Kindlon reiterated his claims that the blame for Saturday's crash should lie on the intersection, which was notorious among locals for being a hot spot for accidents.
'This road was a problem, a known problem to the state of New York,' he said. 'The state has done a wonderful job at pointing the camera at the Hussain family.' 
'Could there be some fault with Prestige? Could there be some fault here? Absolutely. Is it criminal? Absolutely not.' 
'What about the state of New York? Is this day meant as a distractor in terms of what the state of New York knew and when they knew it?'
'They need to find out why New York chose to not fix this road when they had the opportunity.' 
Locals revealed this week that the intersection of State Route 30 and State Route 30A is notoriously dangerous, seeing four crashes since 2008.  
NY State Police Superintendent George Beach briefs the media on the arrest of Nauman Hussain in the limo crash case. pic.twitter.com/MkyLEmoPUJ

— Jon Campbell (@JonCampbellGAN) October 10, 2018
BREAKING: State Police took Nauman Hussain, operator of Prestige Limo, into custody following a traffic stop on I-787. Charges are pending at this time. Nauman Hussain is the son of Prestige Limo owner Shahed Hussain . pic.twitter.com/t6twyHym5D

— Trishna Begam (@TrishnaWTEN) October 10, 2018
Nauman Hussain target of death threats:
Saturday's tragedy which saw all 17 passengers and the driver killed along with two bystanders followed Lisinicchia driving through a stop sign at the intersection and colliding into a parked vehicle at a parking lot at adjacent store, Apple Barrel Country Store.
Kindlon said Hussain being the target of death threats following Saturday's tragedy.
Told the lawyer, 'He's had death threats, people calling on him and hanging up. He's had to change number three times,'
'I'm so very sorry for what has happened and so is this family, so is Prestige,' 
'Sisters and husbands gone, kids don't have parents, parents don't have kids anymore...there are no amount of words I can string together to express my apologies.' 
Limo Co. Atty Lee Kindlon: Right now it's our contention Nauman Hussain had very little involvement (in the company). The father, the owner, did all the day-to-day operations, took care of maintenance, and controlled the company. Police told me, Nauman booked the party Saturday. pic.twitter.com/FovRcgCkVR

— Dan Levy (@dlevywnyt) October 10, 2018
Nauman Hussain lawyer insists Prestige was cleared by DOT:
The statements follow the lawyer the day before insisting the Department of Transportation clearing Prestige Limousines for ongoing inspections with the company cars cleared to be on the road. Claims that the agency called 'categorically false'.
'DOT issued multiple violations on this vehicle and barred it from being used as a commercial passenger transport vehicle,' said spokesman Joseph Morrissey. 
'The use of this vehicle is such a blatant breach of the law. This vehicle should not have been operating as a commercial vehicle on the road, period.' 
Addressing the agency's rebuttal, Kindlon said the 2001 Ford Excursion driven in Saturday's crash failed its inspection last month due to 'minor things' like 'windshield wipers' and a 'latch on a window that needed to be fixed'.
Adding, 'I don't think that these infractions were what led to the tragedy,' 
But it continues to get grimmer.  
Monday afternoon, Hussain's son, Nauman Hussain, who has operated the limo company, met with investigators from the State Police's major crimes unit https://t.co/Ay4yxiLmp0 via @timesunion

— Brendan Lyons (@Brendan_LyonsTU) October 8, 2018
Prestige Limousine a history of ongoing violations:
Records reveal that the vehicle had been cited for numerous safety issues during three different inspections in March and September.  
In March the vehicle was cited for 14 safety violations with the DOT saying the limo had to be taken out of service until the issues were fixed. 
Among the citations were the fact that 25 percent of the car's brakes were defective, the rear emergency exits did not operate properly, and a hydraulic brake line was dangling and able to make contact with a tire.
A September inspection once again turned up a number of violations, and noted that many of the issues found in March had not been fixed.   
Federal Motor Carrier Safety Administration documents revealed the company having to pull at least four cars out of service because they failed safety inspections in the last year.
That puts the company at a 80 percent failure rate, compared to a national average of 20.72 percent. 
All three vehicles currently owned by the company had violations when they were inspected last month, according to Department of Transportation records. 
NTSB is sending a crew to the scene of the fatal crash in Schoharie. https://t.co/5DBtWp3GGr Here is a look at where it happened. pic.twitter.com/YRhVKYA2Ue

— Heather Kovar (@CBS6Heather) October 7, 2018
Nauman Hussain previous arrest:
Hussain's arrest follows him being arrested in 2014 along with his brother, Shahyer after both men were pulled over while driving. At the time, Shahyer had a revoked New York State driver's license with 28 suspensions. Hussain had a valid license with an extensive suspension and conviction list that had been cleared. 
The brothers have been ticketed more than 70 times with Shahyer having used Hussain's identity numerous times.  
Shahyer was charged with felony aggravated unlicensed operations and misdemeanor criminal impersonation and conspiracy. Hussain was charged with misdemeanor false personation and conspiracy.  
Amy Steenburg, Allison King, Abby Jackson, Mary Dyson are the 4 sisters killed in the NY- Schoharie limousine crash after rented bus broke down. https://t.co/dUHFaGbHh4

— Scallywagandvagabond (@ScallywagNYC) October 8, 2018
Prestige Limousine tried selling crash limo two days before crash:
Further raising eyebrows as to the limousine company's dealings are reports that just two days before the crash, Prestige Limousines listing the 2001 Ford Excursion driven in Saturday's crash- for sale on Craigslist for $9,000. 
The online post did not include photos but said the vehicle was in excellent condition and 'DOT ready'. Prestige only owned a single 2001 Ford Excursion. 
And although Lisinicchia had a CLD-A license, which allowed him to drive trucks, he did not have the necessary permit required to drive a car capable of carrying more than 15 passengers, according to the Albany Times Union. 
Kindlon in turn claimed that it is 'abundantly clear' that the state is 'trying to point fingers' at Shahed and Prestige Limousines.
'They're looking for a scapegoat rather than waiting for the investigation to take place,' he said. 'Certainly it's in their interest to point away from any failures on behalf of the state.'  
Governor Cuomo confirmed on Monday that the state is seeking a cease-and-desist order so that Prestige cannot operate while it's under investigation.
'The owner of the company had no business putting a failed vehicle on the road,' Cuomo said.
The criminal investigation and the investigation into the cause of Saturday's crash continues. 
Schoharie crash limo owner former FBI informant and shady operator.
Schoharie crash bystander victims: Suny Oswego professor (devoted dad) & father in law
Schoharie crash limo driver had previous drug-traffic arrests.
Schoharie party limo was last minute ride but in 'terrible condition'
Schoharie limo crash victims: Mom and dad of two toddlers killed
Schoharie limo crash victims: 2 brothers and new wife
Schoharie limo crash victims I'd: Newly married in June