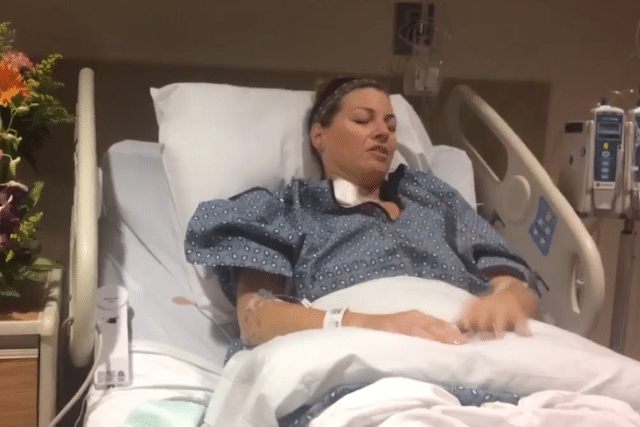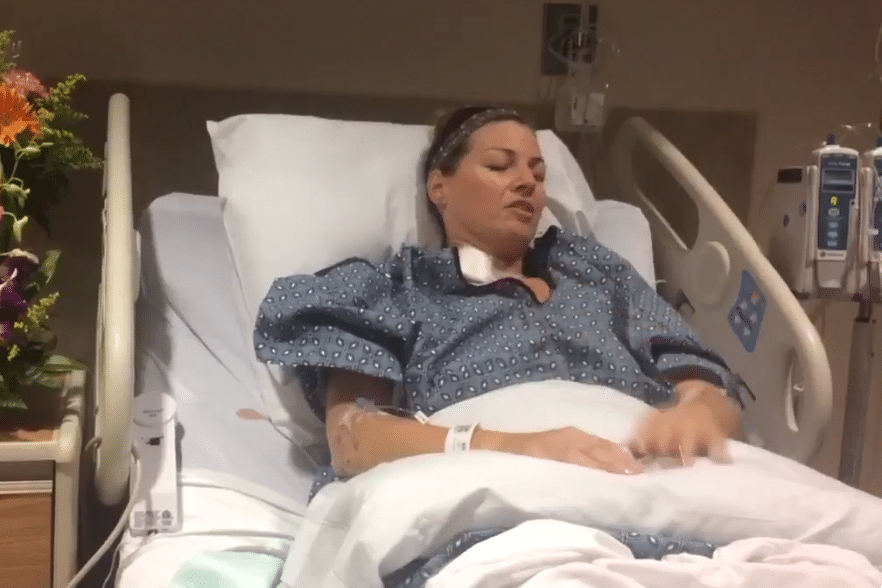 Natalie Vanderstay Las Vegas nurse: How a wounded reveler at Sunday's Las Vegas shooting willed herself not to die as battled for her life.
Natalie Vanderstay a 43 year old local area Las Vegas nurse has told of being forced to tend to her own wounds amidst Sunday night's mass shooting at the hands of Stephen Paddock, 64, which left 58 dead and over 520 injured. 
Realizing she was going to bleed out, the medic assistant who said she 'wasn't ready to die' told of clambering over countless bodies after a bullet ripped open her stomach.
Told Vanderstay via the Washington Post, 'People were screaming. And the screams got louder and louder,' she said. 
'I felt this force in my stomach and I knew that I had gotten shot.'
When the gunfire ripped into her, the woman said 'it felt like a huge baseball, just the force of it going through my stomach.'  
Along with enduring a bullet wound to her stomach area, shrapnel also shredded Vanderstay's leg. With blood pouring out of her, and equipped with her expert knowledge, the nurse knew she had to act fast to survive, taking off her flannel shirt to tightly wrap the leg.
Natalie Vanderstay Las Vegas nurse: How her expertise normally used on others this time saved her own life.
Told the struck nurse from her at University Medical Center, 'I said, "OK, I can't stay here. I'm going to bleed out." It hurt so bad,'
Adding, 'But I knew I didn't want to die. I wasn't ready to die.'
'There were people that were dead. There was a guy, his eye was blown out, and I couldn't help him,' she said.
At the site of the attack, people fashioned stretchers out of fence posts and tarps and made tourniquets out of belts.  
Explained the critically wounded woman, 'I just tried to stay low but I was being trampled,'
Adding, 'Everyone was stepping on everybody and, unfortunately, I had to step on people too just to get where I needed to get to.'
To get out alive, Vanderstay willed herself to jump over a fence and escape the concert ground. 
She then hunkered down with a group of strangers, waiting for the gunfire to stop.
From there, Vanderstay spotted a cab with three people already inside. 
She told them she'd been shot and needed to get to a hospital. 
The strangers took her in and put pressure on her stomach wound, and the quick-thinking cab driver knew not to take her to the nearest hospital but to University Medical Center, the only Level I trauma center in the state.
Told the nurse, 'If it wasn't for that cab driver, I wouldn't be here,' 
'And I don't know who he is. He did everything to get me here.'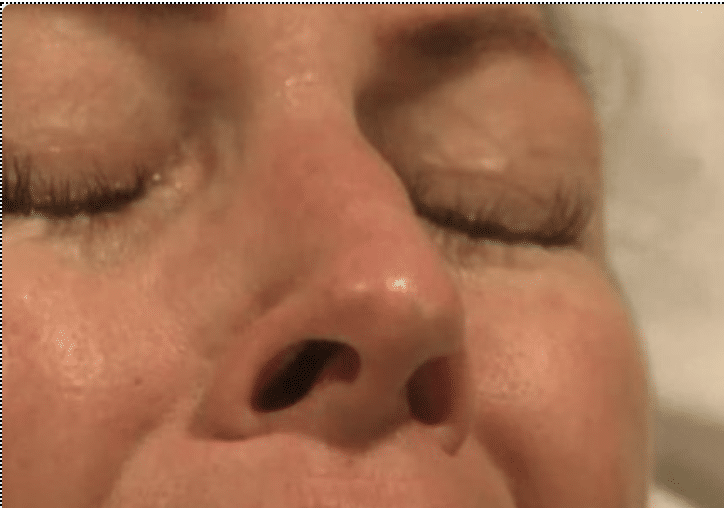 Natalie Vanderstay can hardly believe she's alive. In the past 48 hours, she said, her life has changed forever. https://t.co/dHyg3STzo3

— Alex Sanz (@AlexSanz) October 4, 2017
Natalie Vanderstay Las Vegas nurse: Coming to terms with physical wounds, and mental and emotional ones too.
Post surgery, Vanderstay said she has immense gratitude, for all the strangers and good Samaritans who helped her stay alive and for all the nurses and doctors at the hospital who saved her life.
'I just remember waking up and my friends were there saying, "You made it. You're OK," Vanderstay said. 
Adding, 'The road to recovery is going to be tough, mentally and physically.' 
Vanderstay is one of more than 500 people injured that night. 
At least 130 people remained hospitalized Tuesday, with 48 listed in critical condition. 
The staggering count of people injured in the shooting at a Las Vegas music festival on Sunday means their recoveries are likely to be as varied as the victims themselves. Some injuries are as simple as broken bones, while others are gunshot wounds involving multiple surgeries and potential transplants.
For Vanderstay, there are physical wounds that she as a nurse knows will take many weeks or longer to heal. 
She underwent surgery to have her colon and small intestine resectioned, meaning portions were removed.
Then there are the memories of how it happened and how one night out with friends at a concert turned into a siege.
Did Marilou Danley know about Stephen Paddock mass murder plot?
Why did Stephen Paddock wire Marilou Danley $100K week before Las Vegas shooting?
How did Stephen Paddock 'lone wolf' pull off Las Vegas mass shooting?
Hayley Geftman Gold CBS exec fired: 'I've no sympathy for gun toting Republican victims'
Marilou Danley Stephen Paddock's girlfriend broke up with Las Vegas shooter
Stephen Paddock Las Vegas shooter: heavy gambler, pilot with no criminal record
Why? Stephen Craig Paddock I'd as Mandalay Bay Las Vegas shooter