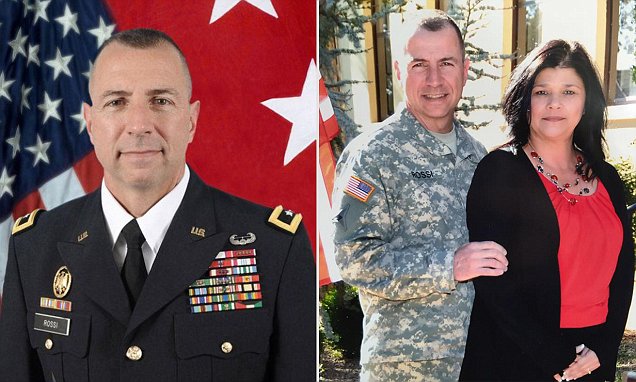 What led to Major General John Rossi killing self? US Army declines to say why a high ranking US army man killed themselves as some question darker forces.
The US army announced on Friday that Major General John Rossi a two star general who was found deceased in his Alabama military home on July 31 died as a consequence of killing himself.
The 55 year old man's suicide death came two days before Rossi was slated to be put in charge of the Army's space and missile defense command.
In releasing its statement, the army said that Major General John Rossi was the first Army general to commit suicide on active duty since record keeping in 2000.
Of note, suicides in the armed services normally affect lower ranking members. That said suicides overall have soared in the last decade, raising concerns and questions as to the root cause.
According to x, Rossi, a a West Point academy graduate and an air defense artillery officer by training, had just moved to his military home of Redstone Arsenal in Alabama.
He had a wife, Liz, three children, Dominic, Maria and Angelina, and a granddaughter named Kylie. Dominic is a captain in the Army.
With Rossi scheduled to be promoted to lieutenant general with his new upcoming post the man chooses to kill himself, raising the awkward question, why would a career military man, fast rising in the ranks choose to kill themselves on the eve of a new illustrious promotion? Never mind the consequences of leaving behind loves ones behind?
Of note, the US Army for reasons not necessarily understood declined to make any mention of what might have prompted Major General John Rossi to take his own life. An omission that perhaps betrays the very attitude of the armed services that may have left one accomplished military man deeply conflicted?
That said a US government official close to the investigation told USA Today 'that it seemed' that Rossi, who had served over 33 years in uniform was overwhelmed by his responsibilities.
The investigation didn't reveal any factor, such as misconduct or substance abuse, that could have triggered Rossi's suicide, the official said. Also not mentioned is why a veteran would suddenly be overwhelmed by duties that he had spent an entire lifetime preparing himself for?
Ironically, a few months before killing himself, Rossi had spoken in March at a conference about suicide in the armed forces, saying: 'We are ultimately responsible for soldiers both on and off duty.'
The Rossi family issued a statement through the Army expressing thanks for wide support and urging those who may need suicide-prevention help to seek it immediately.
'To the Army, he was Major General Rossi. To us, he was John — husband, dad,' the family wrote.
'We ask for the time and space to grieve in private, and for the Army to continue to better understand suicide, and to help and treat those in need.
'For our family, this has been an incredibly painful time, and we ask that you continue to keep us in your thoughts and prayers.
'To all the other families out there, to the man or woman who may be facing challenging times, please seek assistance immediately. Compassionate and confidential assistance is available.' 
Rossi served in the United States, Iraq, Korea, Germany and Asia, according to his obituary.
He received the distinguished service medal, the legion of merit and the bronze star.
In the interim, commentators on the web continue to wonder if Major General John Rossi really did die the result of a suicide or if there are more onerous behind the scenes forces at play that the army has declined to reveal, and if so, why?