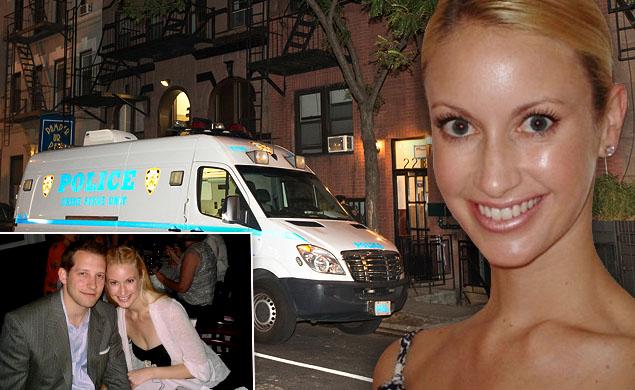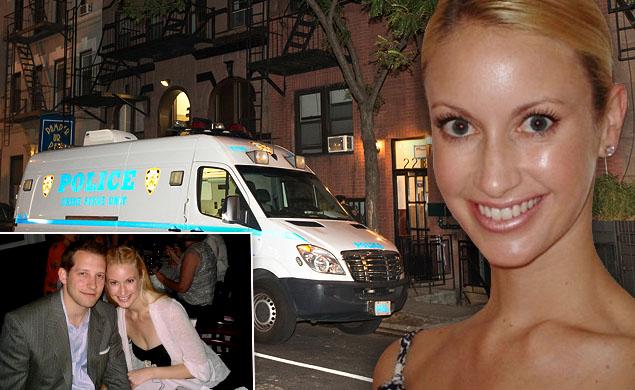 Married woman and mother of three, Kiersten Cerveny, 38 a Long Island dermatologist was found dead Sunday in the vestibule of a Chelsea building after a night of partying.
Cops believe the woman had gone to the west 16th st building to visit someone but never made it out alive. Cops said the 38-year-old mom was found unconscious in the building's doorway around 8:30 a.m. with bruises consistent with strangling.
Dr. Kiersten Rickenbach Cerveny autopsy: 'I died from an acute coke and booze binge'
Kiersten Cerveny close friends in disbelief over double life facade
Was Marc Henry Johnson having a fling with Kiersten Cerveny? Had marital problems.
James Pepsi Holder, Kiersten Cerveny's drug dealer still on the run
Marc Henry Johnson: 'Kiersten Cerveny had a drug overdose and then I fled'
Dr Kiersten Rickenbach Cerveny double life. Was doing coke when she passed out
Whether the bruising happened before making her visit, after her visit or even at the hands of the individual who she had gone to visit is not yet understood. Others have even questioned whether the bruising may have come about before the woman was found dead in the building's vestibule.
Nevertheless it would be later realized that the Manhasset dermatologist who had graduated magna cum laude from Duke University and risen to the ranks of an assistant professor and now lived in a million dollar home with her devoted husband hid a secret- she was a coke fiend.
To what degree the woman's addiction may have inspired or contributed to her death is not yet known, nevertheless the nypost reports that the woman's friends whom she had been out with during the course of the evening confessing that Cerveny had been drinking and on a coke binge along the city's lower east side.
A report from the dailymail also told of a building resident telling the tabloid that the dermatologist had been taking cocaine and drinking with two men in a third-floor apartment in the building before her lifeless body was discovered.
Perversely Cerveny would be found not to be wearing underwear with authorities later discovering her underwear in her purse.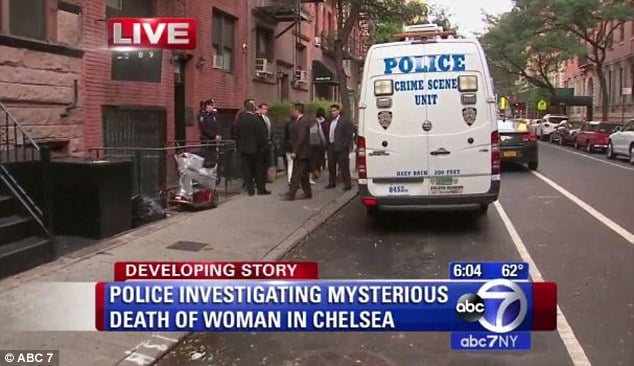 'She's been known to party a little,'  a source told via the nydailynews. 'She was out late with her friends, out until 4, 4:30 (a.m.)'
The victim's shocked father said he was told by Cerveny's husband that she had gone into the city to stay over with a friend.
'She was supposed to stay with a friend,' Robert Rickenbach, of Scottsdale, Ariz., said of his daughter. 'He (her husband) hasn't heard from her.'
Cerveny and her husband, Andrew Cerveny, who is also a dermatologist, were married in 2009. 
Cops hypothesized Cerveny may have been the victim of a crime committed somewhere else in the building before collapsing at the front door vestibule. Whether Cerveny stumbled into the lobby or was dumped there is not understood.
When cops arrived, paramedics were already performing CPR. She was rushed to Lenox Hill Hospital, but couldn't be saved.
Neighbor Michael Ruddy, 72, saw the woman in the back of an ambulance when he went out for a morning walk.
'One ambulance door was open,' Ruddy said. 'I saw a foot with no shoe and them doing chest compressions.'
Cops were trying to obtain a search warrant for an apartment in the building, and investigators were reviewing surveillance footage at the address.
Sources said Cerveny was spotted going into the building with two men, one of whom lives there.
Later, all three were in the lobby before the building resident sprinted off, sources said. The second man hung around long enough to call 911 before he also fled.
Newsday claimed that CCTV captured two men carrying her down the stairs of the apartment building before she was found.
An autopsy is scheduled for Monday to determine the cause of death. Cerveny's death has not been ruled a homicide by police, who are treating it as a DOA investigation.  
Sources said Cerveny was not robbed, and cops were able to identify her at the scene. They also said she was fully clothed when she was found.
She was listed as the chief of dermatology at Brooklyn Hospital Center and is an assistant professor of clinical dermatology at Weill Cornell Medical College on the Upper East Side.
The New Jersey native was crowned America's Junior Miss in 1995.
According to a New York Times wedding announcement, the then Kiersten Rickenbach married Andrew Cerveny in 2009 at the luxury Gramercy Park Hotel.
They both met in 2004 when they were residents at the Medical Center of Louisiana at New Orleans.
Images via facebook