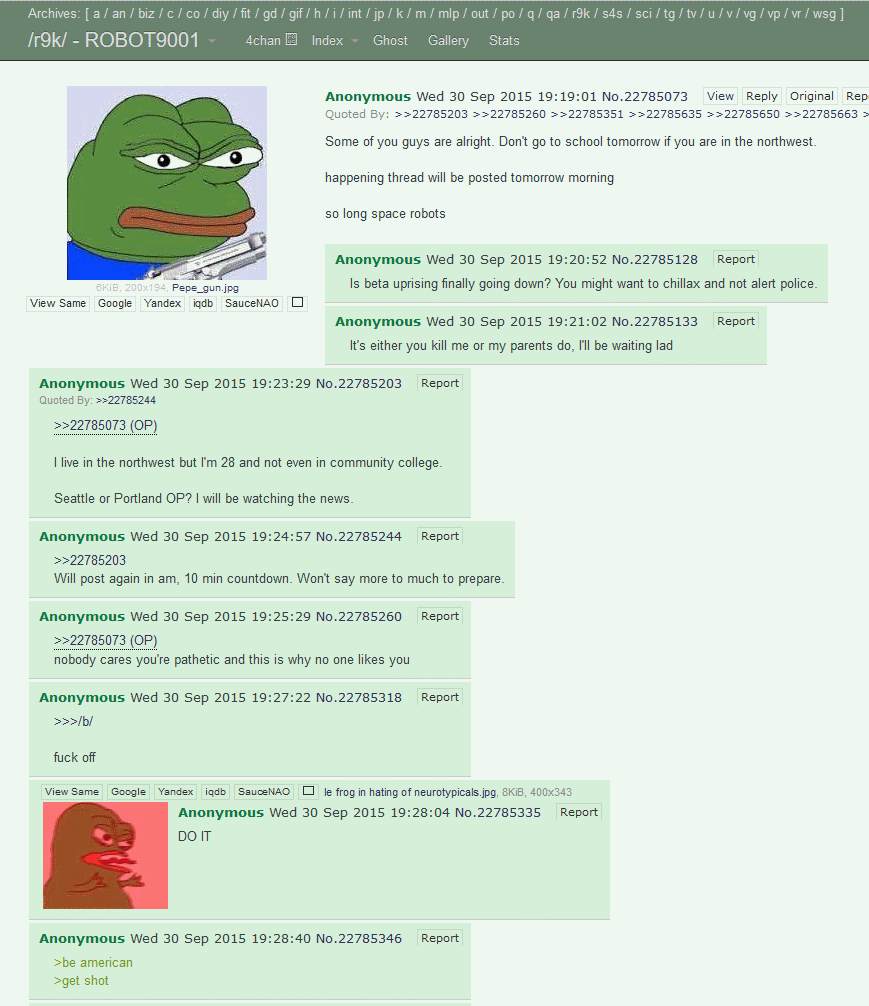 Oregon state police have confirmed 15 dead during a campus shooting on the fourth day of school at Umpqua Oregon Community College at the hands of as a yet un named male shooter in his 20's.  Total casualties according to KGW-TV in Portland confirm at least 20 victims wounded. A shooting that according to online forum 4chan warning was imminent.
'Achieving fame,' What were Chris Harper Mercer motives?
Chris Harper Mercer manifesto: 'I am going to die a virgin'
Why did Chris Harper Mercer kill his UCC school class mates and English professor?
Lucero Alcaraz identified as first UCC shooting victim, dreamt of becoming pediatric nurse
Chris Harper Mercer attended special needs school, father: 'Like you, I'm devastated.'
Chris Harper Mercer idolized Vester Flanagan: 'People like us have nothing to live for'
Chris Harper Mercer online dating profile: 'I hate organized religion'
Why did Chris Harper Mercer UCC Shooter kill 10 Oregon victims?
Is Toby Reynolds, aka Egg Man Oregon Umpqua College shooter?
Initial reports indicate the suspect has been detained, with questions as to whether if the gunman was a student or affiliated with the school? Not understood is if the shooter was injured whilst being taken down? Later reports said the 20 year old shooter was killed.
The shooting has led to the closing off of campus to the public while canines sniff for explosives. 
Sgt. Dwes Hutson, of the Douglas County Sheriff's Office, says officers responded around 10.40am local time to reports of a shooting at the Roseburg campus.
KATU reported, citing a school official, that gunfire erupted at Snyder Hall located in the English building on campus, which is comprised of about 16 auxiliary buildings.
Douglass County Commissioner Chris Boice said indications were that the shooter picked the campus as a 'soft target.' 
Reports from a police scanner recorded a dispatcher saying he was 'exchanging gunshots right now with a shooter' who was located in Snyder Hall.
A report via NRToday tells of the shooter firing through a window in Snyder Hall, an academic building, and shooting a writing teacher in the head told student Kortney Moore.
Once inside, the shooter told everyone to get on the ground, then asked everyone to stand up and state their religion, and began firing.
Witnesses described hearing a barrage of shots in just one minute.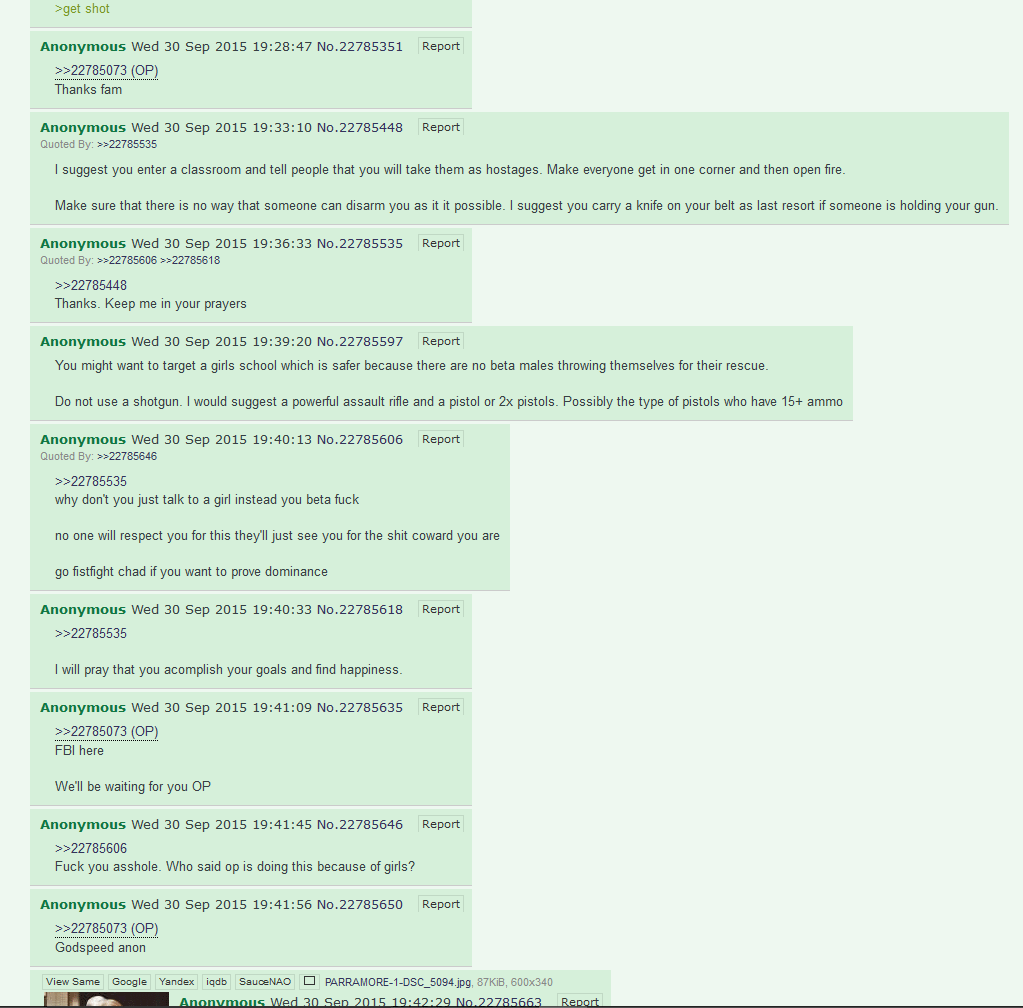 Throwing conjecture as to what led to the shooting, anonymous internet chat board, 4chan users have told that the shooter had warned of his intentions last night.
Read the message: 'Some of you guys are alright. Don't go to school tomorrow if you are in the northwest.' 
The message continues 'happening thread will be posted tomorrow morning. so long space robots.'
The alleged post is no longer visible on the website – the cached version was first posted on Reddit after the shooting.
'Will post again in am, 10 min countdown. Won't say more to much to prepare,' the post continues.
Incredulously under the message several users advised the poster on the best ways to kill people.
One user wrote: 'I suggest you enter a classroom and tell people that you will take them as hostages. Make everyone get in one corner and then open fire.
'Make sure that there is no way that someone can disarm you as it it possible. I suggest you carry a knife on your belt as last resort if someone is holding your gun.'
While another user wrote: 'You might want to target a girls school which is safer because there are no beta males throwing themselves for their rescue.
'Do not use a shotgun. I would suggest a powerful assault rifle and a pistol or 2x pistols. Possibly the type of pistols who have 15+ ammo.'
The two-year college, located 180 miles south of Portland, has more than 4,000 students, more than half of them female. The average age of students enrolled in UCC is 38.
According to Everytown for Gun Safety, a pro-gun control group, the incident in Oregon is the 45th shooting at a school so far this year.
The incident is developing as more news unfolds … (more 4chan screen shots below)