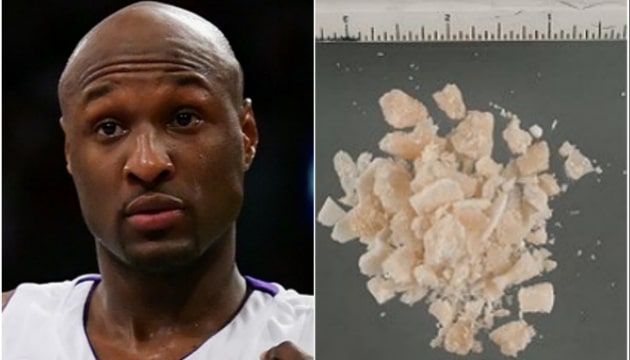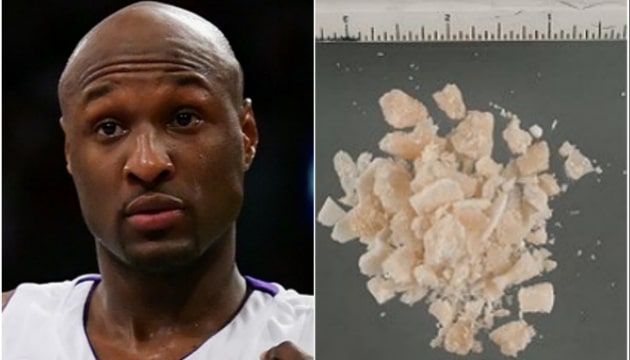 It has now been confirmed that Lamar Odom succumbed to a lethal concoction of drugs, including crack cocaine, opiates, herbal viagra as well as alcohol during a 5 day party bender at Nevada's Dennis Hof's Love Ranch.
According to a source at the hospital who spoke with E! News where the sports legend remains in a coma, doctors found 'virtually every drug imaginable' in Odom's system and that it appears he may have suffered a stroke.
The exact kind of stroke Odom is believed to have suffered involves a blood clot blocking blood flow to the brain, and is often a result of cocaine overdose.
The insider said that Odom started taking cocaine on Friday and 'chocked on his mucus'.
Sources discount the notion that the overdose was intentional but possibly the result of Odom's history of drug abuse.
Reiterated the source: 'The long term effects of his drug use have taken a toll on his body and the binge this time was too much to handle.'
Lamar Odom did coke and cried in prostitutes arms over broken life
No, Khloe Kardashian didn't bring camera crews to Lamar Odom's hospital bed
Lamar Odom heart attack : Are the Kardashian's to blame?
Photos: Ryder Cherry and Monica Monroe are the Lamar Odom prostitutes who discovered him
Lamar Odom downfall: 'I couldn't keep up with the Kardashians.'
Lamar Odom near death. Partying at Nevada brothel for days, crack binge.
Lamar Odom holed up in a room smoking crack with lover.
Lamar Odom goes on a crack binge and Khloe Kardashian kicks him out.
Sources also told TMZ that doctors found both cocaine and opiates in his system, as well as needle track marks on one of his arms. That counters previous statements made by Dennis Hof, the brothel proprietor, who told none of his girls saw the athlete taking illicit drugs during his stay. A statement Hof was probably forced to say in a bid to disassociate his establishment from the type of rated R behavior that so often takes place at such venues, usually with management's complicit knowledge.
Current reports tell that Odom remains unconscious, on a ventilator with fears that he had been brain dead unfounded as doctors have told brain damage has been observed.
Sources tell that Odom had checked into the ranch in high spirits but may have gone off the deep end after Sunday night's Keeping Up With The Kardashians (KUWTK) episode which saw the basketball star's former wife, Khloe telling cameras she was worried Lamar would 'spiral' out of control after the drug-related death of his best friend.
The statement from his ex is one of many that she has made ongoing to the public, fueling Odom's distress and pleading for privacy of his affairs. A call to action that presumably means little to the Kardashian clan who feed off the rehashing of 'dramatized' events relating to the clan.
A source told following the episode, Odom received a phone call leading to the basketball player becoming irate and inconsolable and not heard from anyone again until he was found unconscious Tuesday afternoon.
Perhaps not too ironically, the Kardashian clan has been busy rushing to the hospital to be by Odom's side as some begin to wonder if the Kardashian clan may have this time gone too far in the public thrashing and displaying of their dirty laundry which has even led to other Kardashian members crying foul in the past.