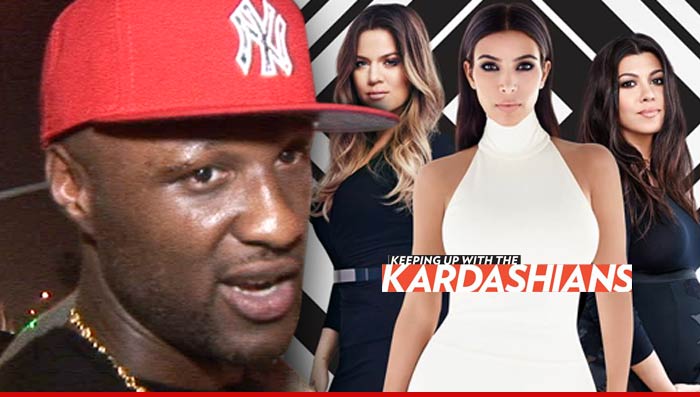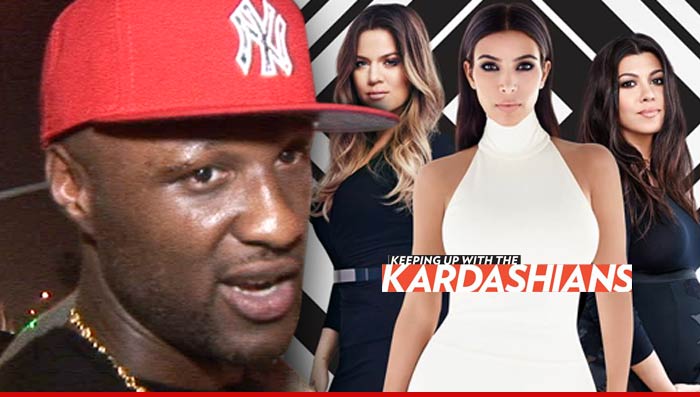 For most people the idea of bringing a television crew to witness the minute by minute demise of a loved one is as reprehensible as it sounds. That of course didn't stop countless media agencies positing that this was exactly what Khloe Kardashian, the estranged wife of drug overdose victim, Lamar Odom did upon news of a meltdown at a Nevada brothel.
A notion that gained plausibility not because one is physically capable of such things, but a belief system that the Kardashian clan are devoid of humanity and integrity and would sell the gold tooth of a displaced gypsy if it meant extra ratings buzz. Good or bad.
Lamar Odom did coke and cried in prostitutes arms over broken life
Lamar Odom heart attack : Are the Kardashian's to blame?
Lamar Odom Nevada drug overdose: Crack, opiate fueled 5 day bender
Photos: Ryder Cherry and Monica Monroe are the Lamar Odom prostitutes who discovered him
Lamar Odom downfall: 'I couldn't keep up with the Kardashians.'
Lamar Odom near death. Partying at Nevada brothel for days, crack binge.
Lamar Odom holed up in a room smoking crack with lover.
Lamar Odom goes on a crack binge and Khloe Kardashian kicks him out.
It all started with a report out of radar (who to date have declined to retract or update their story) telling how Khloe raced to be by Lamar's bedside with a rolling camera crew at hand.
If only the cynical amongst us imagines.
Read the shocking tabloid report in part: As Lamar Odom fights for his life in a Las Vegas hospital his ex-wifeKhloe Kardashian and her family are filming the tragic situation for their reality show — and have created what eyewitnesses called a "sh*it show"
A shit show indeed. On the media's part.
Continues the outlet, quoting an unknown source: 'It's [a] s**t show," a source close to the situation told Radar. "The Kardashians are trying to run everything. They walked into the hospital with cameras rolling. It was shocking, but hardly a surprise.'
Khloe was "extremely upset," the source told Radar," adding that "they are all crying and pretending like they care.
It wasn't too long before gawker chimed in and got its share of the magic clicks when it too ran a headline prefacing that 'Khloe runs with family crew to Lamar's bed and the ratings are yummy.'
Yes the kettle calling the pot black.
It wouldn't be too long (after the story already hit the tape, so much for media accountability…) that gawker posted an update to the story, telling multiple outlets refuting the scam claim.
Explained tmz Wednesday afternoon, filling our collective desire to know if the Kardashians could possibly sink to a new all time low:
TMZ has learned that "Keeping Up with the Kardashians" is on a hiatus, so there's no staff to shoot anything even if the family wanted it. We're told none of the Kardashians want their hospital vigil public … in no small part because Khloe is devastated.
There are reports the family walked in with cameras rolling — not true … cameras did not accompany them.
To the contrary, we're told the Kardashians have banned any photography in eyeshot of Lamar.
Tmz's claim hasn't stopped many on social media still wondering if the Kardashians had initially brought camera crews along but at the last minute testing the water temperature (ie twitter) decided to drop the idea, or the notion that the clan may have still filmed a few scenes, including Khloe running en route to the hospital. Perhaps though who we should be running away from is the opportunistic media who in many respects are just as culpable as the Kardashian clan in their relentless gambit for ratings, the dollar signs and your desperate eyeballs ….
above image via tmz
From a source close to #KUWTK, the Radar story about Lamar Odom being filmed by the Kardashians is bullshit: "We have no one there."

— Kate Aurthur (@KateAurthur) October 14, 2015
NBA: New Sources Say Khloe Kardashian Stopped KUWTK Cameras When Visiting Lamar Odom – http://t.co/ByaYPxrN0B #IFWT — Funk Flex !!!!! (@funkflex) October 14, 2015
@SandyE_88 they say that @khloekardashian ignorant self took cameras in the hospital for filming! I hope that's not true!! VENGEANCE IS COLD

— Dr. Johnny Walker (@drjohnnywalker) October 14, 2015
@angee_nero @khloekardashian @TheSource it's not they said their is no cameras and they banned any cameras anywhere near lamar — Jessica (@jhawaii11) October 14, 2015
@khloekardashian your a pathetic bitch for bringing cameras to the hospital while Lamar odom is in a coma you kardashian hoes love publicity

— Younas Dawood (@thekidyounas) October 14, 2015