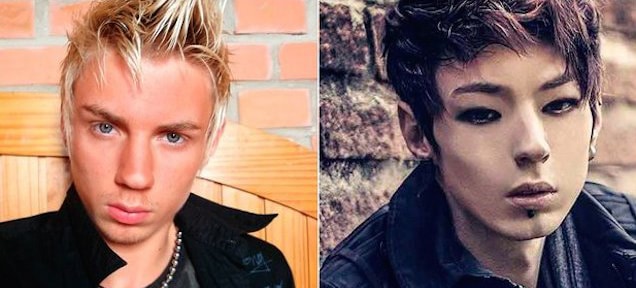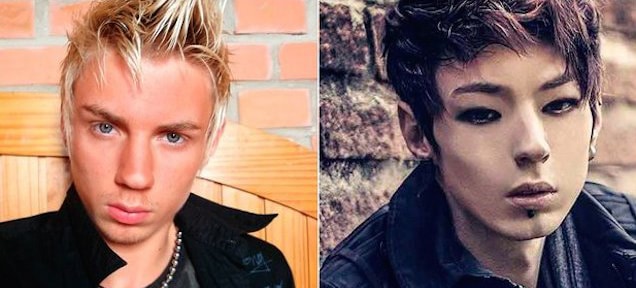 In an eyesore that has yet to be reckoned with before (at least to the media's general knowledge), a white Brazilian man of European ancestry took the bold step of getting plastic surgery so he could look like a Korean guy.
According to The Korea Herald, the 25-year-old Brazilian, who formerly used to be known as 'Max,' underwent 10 surgical operations to transform his look into that of an Asian person. He also dyed his hair (it used to be blond), began wearing color contacts (they used to be blue) and now goes by the name Xiahn (he didn't release his original name).
Told Xiahn: 'Koreans have many surgeries to modify the shape of their eyes and become more like Westerners. It was easy to tell when one of them had done it, walking on the street wearing sunglasses and a surgical mask,'
'I have no regrets, and I don't intend to have any more procedures.'
Hitting out at criticism, Xiahn said on his Facebook account: 'Regardless of religion that the person is, whether or not you believe in past lives, you have only this life, you have to be who you wan to be.'

The procedure is an about face of the usual adulation of Western features by South Koreans, especially women who have to come to the belief beauty is equated to Western features and by proxy the prospect of finding an Alpha mate .
Gizmodo reports that Xiahn spent time in Korea as an exchange student and caught the plastic surgery craze during his time there. Of course that raises the interesting question, what compelled the overhaul?
Did it have something to do with growing up in a multicultural society such as Brazil where most light skinned Brazilians are really of European extraction? In a culture where Brazilians like their South Korean counterparts are known to have entire body plastic surgery? Did it have something to do with a desire to negate his base aesthetics and personality with the hopes of adopting an entirely new and exotic identity (but why Korean then, or is that as exotic as it gets?). Or is Xiahn just bordering on the fatalistic and dysfunctional?
Rodrigo Alves spends $168K on plastic surgery to look like Ken doll
Hong Yuh Reum, South Korean model has surgery to look like Miranda Kerr and is now solidly booked
Plastic surgery in South Korea that you need a new passport
South Korean reporter shocks nation with drastic jaw surgery. Did she ruin her face?
The rise of the perma-smile, new trend out of South Korea.
Miss Korea 2013 contestants all look alike because they all use the same plastic surgery tricks?

South Korean girls flock to have double eye lid surgery to look like Western celebrities.