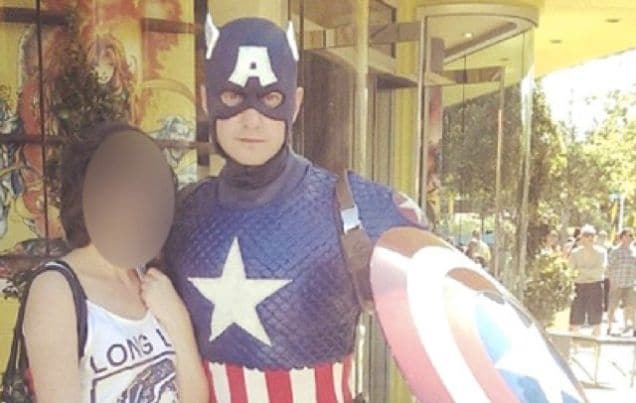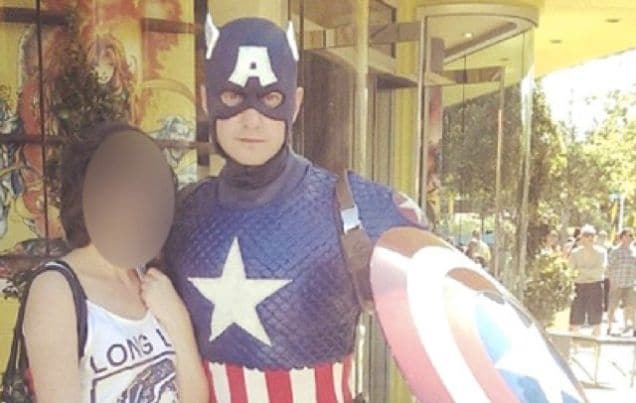 It seems James Weldon Alton, 29 may not be the superhero he may have thought he was after all after the Captain America 'performer' at Universal Studios came to be arrested last week after his ass took to sending illicit images of his penis to a minor via an electronic device.
Booked on felony chargers of transmitting harmful material to a 16 year old he met on the job, Captain America told he wasn't sure why he sent the pictures, what he expected and has now called the whole fiasco 'poor judgement.' Which is his way of saying he's very sorry he got caught and had to come up with something reasonable to tell police so he wouldn't come off as a complete shit head, which naturally he has anyway.
The 'fun adventures' with Captain America came to be after the girl posed with Alton at the theme park where he worked playing a super hero,  before posting the picture on instagram.
Naturally Captain America soon came to find the picture where he soon then took to pursuing an 'online friendship.'
The girl said she and Captain America started out exchanging texts as friends, but Alton quickly escalated the 'friendship' by showing her his dick. He also texted her about masturbation and 'getting into her.'
Interestingly the explicit pics allegedly began after the girl told Alton she was 16.
In a sworn statement, Captain America said that the girl told him she was underaged, but that he chose to ignore that, 'because at times he thought it was a joke or that it was all just merely online [flirting].' 
After his arrest, cops found that Captain America had also tracked down and left comments on the Instagram accounts of two other girls who recently posed for photos with him—'Definitely my fav of the day!!' and 'You're a sweetie,' he had purportedly written. Which also must have been other jokes too.
Universal Studios has parted ways with Alton, who had worked there since 2010. Which is to say James Weldon Alton unfortunately is no longer the action hero he once thought he was…