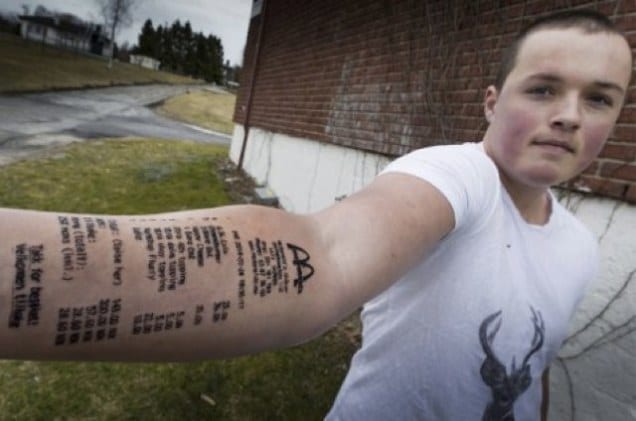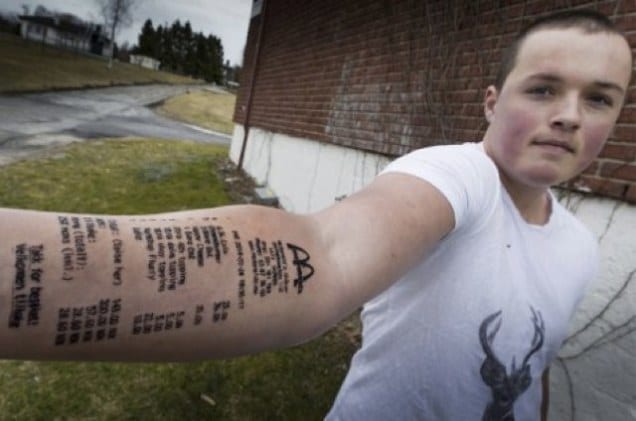 Stian Ytterdahl, a Norwegian teen who tattooed a McDonald's receipt on his right arm has caused consternation in his homeland after images of his new look made the rounds.
According to the teen, he was forced to choose between a Barbie on his ass or the McDonald's receipt on his arm in lieu of punishment for 'being too active with the ladies.' Whatever that shit means.
Resigned to his fate, the 18 year old decided to post Monday's McDonald's fest on his arm and has now become a free breathing living billboard.
Reflected Stian Ytterdahl to a local media outlet: 'Now I'm a living billboard,'
'But I think all this is just fun. Maybe it won't be as fun when I'm 50 or 60 years, but it's my choice.'
Added the youth: 'It's funny to think that I have a tattoo no one else has before. Even the date and time are there.'
To date Stian Ytterdahl who posted the image on Facebook has told he has received over  527 "likes" and 261 comments. 

Interestingly Norway's Communications Director Margaret Brusletto has told that think that the tattoo is 'terrific,' and is thrilled idiot loyal customers like Stian Ytterdahl exist.
Brusletto has denied that McDonald's had anything to do with the boy choosing the tattoo. She also denied the tattoo was a publicity stunt.
Sabelink Tattoo has told that it's the strangest tattoo they have ever done. They also asked if he'd get the receipt for the inking on his other arm for free – and Stian agreed. He's booked in for next Monday.
Photos and story via rb.no