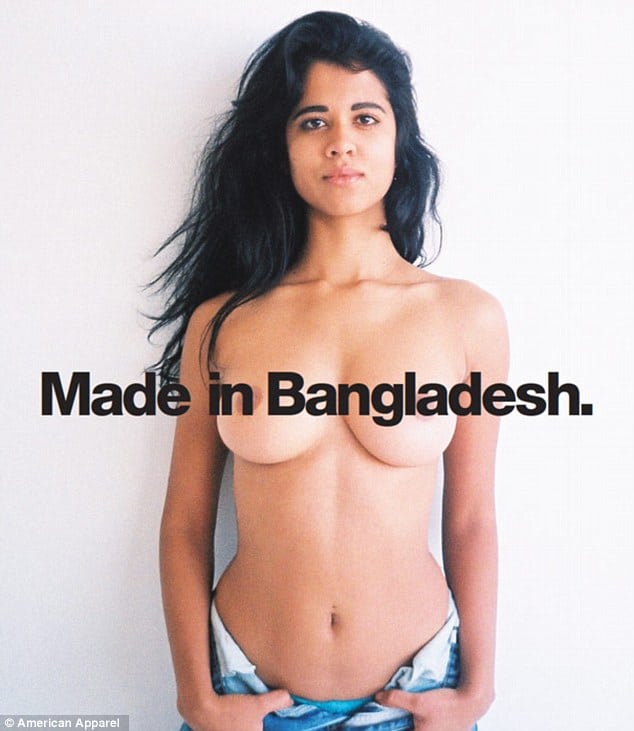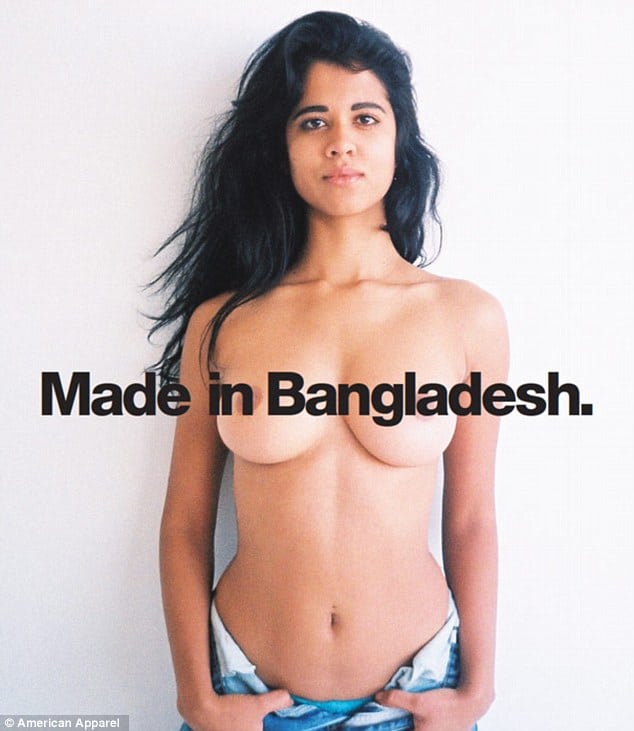 Made in Bangladesh American Apparel new ad campaign has stirred controversy after featuring a topless former Muslim model from Bangladesh.
The campaign which appears in Vice magazine's U.S. and Canada editions, stars 22-year-old Maks, a merchandiser for American Apparel, who was born in Dhaka but has lived in California since the age of four.
The words 'Made in Bangladesh' are printed across her chest – referring to the woman as a means of raising awareness about American Apparel's fair labor practices.
The outlet's clothes are all made in downtown LA.
The tantalizing image is accompanied by a description of the model Maks, revealing how she was raised a strict Muslim but 'distanced herself' from her Islamic faith as she grew up, in search of her 'own identity.'
The campaign takes note to tell how Maks doesn't feel the need to identify herself as an American or a Bengali and is not content to fit her life into anyone else's conventional narrative.
Tells the ad: 'That's what makes her essential to the mosaic that is Los Angeles, and unequivocally, a distinct figure in the ever expanding American Apparel family.'
Which would be compelling except for the fact that American Apparel in essence brands the model the very thing that they seek to demonstrate that she is anything but part of, a compartmentalized version of a preferred narrative.
The ad is likely to unnerve the Muslim community for featuring a half naked model to a country where the Islam is the dominant religion and where nudity is frowned upon.
To their credit the apparel maker do shed light on the fact that  its emphasis on fair wages—between $12-$14 for workers living in California, which they claim is the highest pay in the world for manufacturing apparel basics. Workers in venues such as Bangladesh can expect to make less than two dollars a day working in the apparel sector.
The ad is the latest in a string of advertisements which have served to sensationalize/imbue the outlets' mundane wares with a kind of pop controversy, sadly at the cost of women….
Then there were these following comments on the web that made me wonder:
Using breasts to sell a product? Not very original. Thanks "American Apparel" for the sexism. Again.
Again, what do they want me to buy here?
While it's definitely a marketing ploy, they are still bringing attention to an issue that most Americans wouldn't normally think about (fair wages and conditions for workers- worldwide). It is sad that they have to use sex to do that, but unfortunately, that's the culture we live in. I don't think it's fair to call it a scoff at the Muslim faith, because we have to remember that there are other religions practiced in Bangladesh.
While American Apparel may have a legitimate concern to air, the exploitation of workers who get paid pennies in third world nations where so much of the apparel trade originates from, one has to wonder about their sincerity when they in turn exploit women's sexuality and her image to propagate an idea. Couldn't the same have been achieved had the model simply been dressed? But then again that would have taken away the shock value and made the presumptious argument that society is ready to be addressed by a woman for her sheer intelligence, not her looks and certainly not her breasts jarring at us.
One step forward and three steps back…so much for pointing out exploitation.
I really hate how this advertisement draws attention to all the wrong parts of her body, and further more the stamp made in Bangladesh is right across her chest, in a way this is sexualizing  Bengali women and drawing attention to only her breasts. This truly disgusted me, as the person before me said that its hard to concentrate on the article cause the picture is so distracting. Unless you read the article you will never know what the ad is really about, the pictures is so disturbing to me especially because I am from Bangladesh and I am a women and I feel like this ad is exploiting a women's body to get attention. How many of us are actually reading the article instead of staring at her boobs? or only clicking on it to see the ad and not read what it is really about. The picture has no relation to the article. I cannot express in words how much hatred I feel for American Apparel for sexualizing a Bengali women and distracting the readers from the actual context of the article.
Is this American Apparel Ad too sexy for your tastes? Say yes cause it got banned anyway…
American Apparel's new model Jacky has endless legs, killer cheekbones and grey hair…
American Apparel uses transgender model for its latest campaign.
American Apparel back to exploiting women.
American Apparel: not even pretending to make actual clothes since 1998.
American Apparel wants to share with you how much it has objectified the female form in its newest campaign.
Dov Charney sued for quarter billion dollars by teen employee over forced sex.
American Apparel want to share with you their latest photo shop faux pas.
American Apparel push boundaries with topless swimwear ads.
Are you ready to be an American Apparel model?
It's confirmed Abercrombie and Fitch wont hire you either unless you are drop dead gorgeous.
American Apparel wants to let you know you need to be photogenic before they hire you.