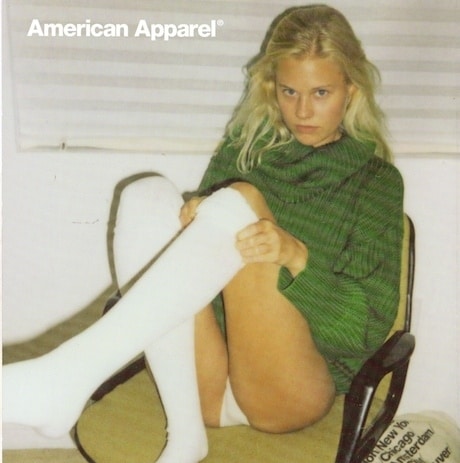 Making news today other than America's fast must do pastime of shooting dead complete strangers is America's penchant to visually offend your eyeballs.
Who's offending your eyeballs this time you wonder? American Apparel thats who. Not that this isn't the usual trick to get us slovenly journalist/blogger types to give free pr attention to fashion outfits like American Apparel who these days feed off the free pr they get every time try roll out with a new brochure or anything like that.
Personally I can't really figure out what's so revolting or too offensive about the above ad. Yes sure it's slutty, tacky, slightly sexy, moronic and very suggestive- but that in essence is who American Apparel really has always been. Let's face it selling plain vanilla t shirts, socks, underwear requires some grit and some very suggestive sexual innuendo. Let's not kid ourselves.
For it's part AA said the model in question was above 18 but nevertheless the Advertising Standards Authority (ASA) had this to say: "because it appeared to sexualise a child the ad was likely to cause serious or widespread offence."
But of course that doesn't mean the ad will be banned here in the USA just in the UK where the ASA is based, because we here in America are slowly becoming desensitized to everything and if sex and violence are the new wet stain that gets us to perk up, so be it. Right?
American Apparel's new model Jacky has endless legs, killer cheekbones and grey hair…
American Apparel uses transgender model for its latest campaign.
American Apparel back to exploiting women.
American Apparel: not even pretending to make actual clothes since 1998.
American Apparel wants to share with you how much it has objectified the female form in its newest campaign.
Dov Charney sued for quarter billion dollars by teen employee over forced sex.
American Apparel want to share with you their latest photo shop faux pas.
American Apparel push boundaries with topless swimwear ads.
Are you ready to be an American Apparel model?
It's confirmed Abercrombie and Fitch wont hire you either unless you are drop dead gorgeous.
American Apparel wants to let you know you need to be photogenic before they hire you.