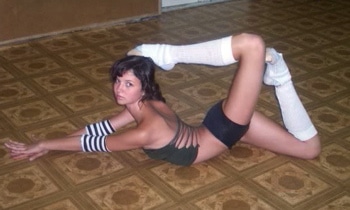 How many acrobatic poses can you do while still looking mildly uncomfortable?
Making it as one of Dov Charney's select employees or cover girls frankly requires a lot of grit, an aquiline profile and limbs that stretch around the back of your neck.
Next time you walk into an American Apparel store could you imagine tossing your left foot over your collar bone, because if you can't you won't be welcome. Oh well…
Source; Animalnewyork.com
Isn't it time you also bought yourself invisible C string invisible underwear?
Hollister only hires 'Hotties.'
It's confirmed Abercrombie and Fitch wont hire you either unless you are drop dead gorgeous.
American Apparel wants to let you know you need to be photogenic before they hire you.