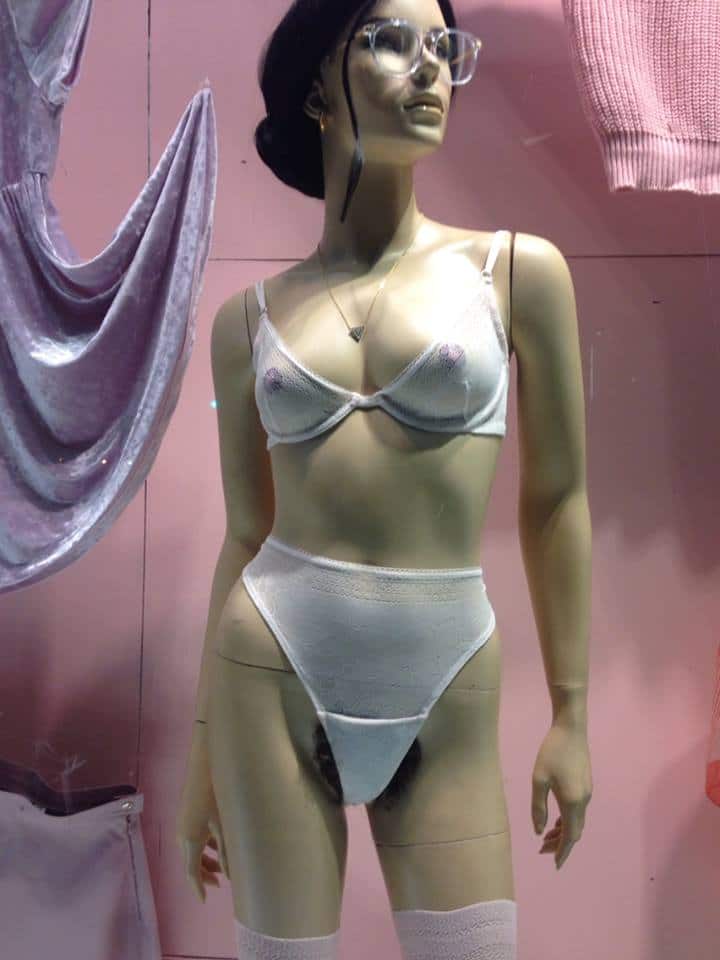 In an attempt to best approximate real world women, retailers are now moving away from thin waisted and svelte store mannequins towards those with broader backs, saggier breasts, back fat and sturdier frames. With some mannequins going so far as to also display ungroomed bikini lines.
Offered Michele Von Plato a vice president of one fashion outlet, David's Bridal towards the practice of  trending towards the new store mannequins: 'This will give (a shopper) a better idea of what the dress will look like on her.'
The effort is an attempt to re-contemplate how to best address women's real world shopping needs (as opposed to the photo shopped ads they are still rigorously exposed to) and get them to feel comfortable about merchandize they see up close and ultimately parting with their money.
In fact so real like are some outlets taking their store mannequins, some are even experimenting with makeup, wigs and even poses.
The move comes after two decades of stores cutting back on mannequins to save money.
Many have been using basic, white, headless, no-arms-or-legs torsos that can cost $300 compared with the more realistic-looking ones that can fetch up to $1,500. With shoppers increasingly buying online, stores see mannequins as a tool to entice shoppers to buy.
Indeed, studies show mannequins matter when shoppers make buying decisions. Forty-two percent of customers recently polled by market research firm NPD Group Inc.
Whilst original mannequin forms were closer to a size 6 with 36-26-36 bust-waist-hip measurements, David's Bridal's Von Plato told the new torso has less of a difference in measurements between the bust and the hip. The breasts are now flatter on top and rounder underneath. And the plus-size mannequins will now show the imperfections of getting heavier, with bulges in certain places like the belly and back.
Also getting behind real store mannequins includes American Apparel. The teen apparel retailer known for its racy ads, this month has mannequins in its store in the trendy SoHo shopping district of New York City that are wearing see-through lingerie that reveal pubic hair and nipples.
Ryan Holiday, an American Apparel spokesman, noted the number of customers in the store has increased 30 percent since the debut of the new mannequins.
Tells Holiday: 'We created it to invite passersby to explore the idea of what is sexy and consider their comfort with the natural female form.'
That said not everyone is pleased, with one shopper, Allison Berman, 19, telling that she found the realism went too far, telling: 'I see this as sexual.' 
Then again this is American Apparel and the gesture could be part of its tendency to stir up emotions.
Of curiosity is to see whether new appropriated store mannequins which reiterate real life female forms may serve to normalize some segments of the population into thinking being chunky, overweight and lacking in tone and physical conditioning might be the new validated ethos.