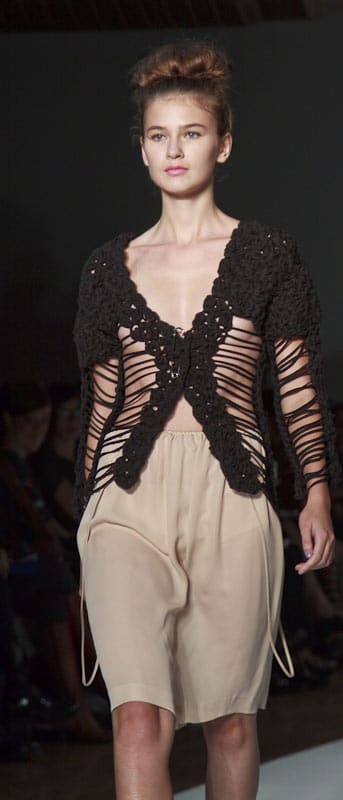 Two themes ran consistently through Risto's 2010 Spring Collection- heavy use of printed sheer fabrics and a purple black print of lightning striking, often paired with other prints. On paper the mismatched prints sounds like a bad idea, but in practice it actually proved eye-catchingly unique. The real problem was with the oft-used lightning fabric itself looked cheap, like something one finds at Forever 21. I really wanted to like this print because it was so bold and fun, but unfortunately in person the look simply did not deliver.
Risto put out several garments made of printed sheer fabrics with nothing underneath, meaning that many models' panties and nipples were on display (A tangent: How do models make sure their nipple are always so consistently erect? I could see that some had piercings, but what about the rest? Backstage ice packs?). This was used to good effect on a handful of skintight bodysuits that wouldn't have looked far out of place at American Apparel.
The award for best use of sheer, however, goes to the caftan. Who would have thought that a garment that in many ways appears to be the flamboyant cousin of the burka could capture hearts and minds? Regardless of that apparent handicap, the sheer cotton caftan was undeniably sexy. The model emerges on the catwalk in a cloud of fabric, but it takes only an instant to recognize that the model's every curve is visible through the billows. Sexy is about what you show AND what you hide, and this caftan somehow shows all and hides all at the same time.
The show took place in a very white room. Floors, walls, ceiling, and chairs were uniformly pristine. The red-lipped onlookers were of the moneyed fashionable. Many were sporting trend-slave chic, meaning that they seemed to be the type to wear anything so long as someone important says its fashionable. This is the crowd that explains the endurance of trends that most of the country wouldn't touch, like harem pants.
Perhaps it's early onset fashion week fatigue, but is it so terrible to long for a more creative use of space and music? Ambient techno- the kind that doesn't seem loud but somehow still forces you to raise your voice when talking to someone right next to you- filled the air before the show, while the more pounding variety played as models walked. I know those model struts look better set to a beat, but is it too much to ask for something a tad less stale? 
Go to page 2 for more pictures.