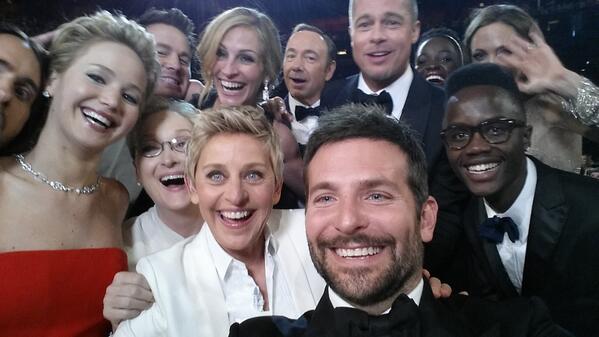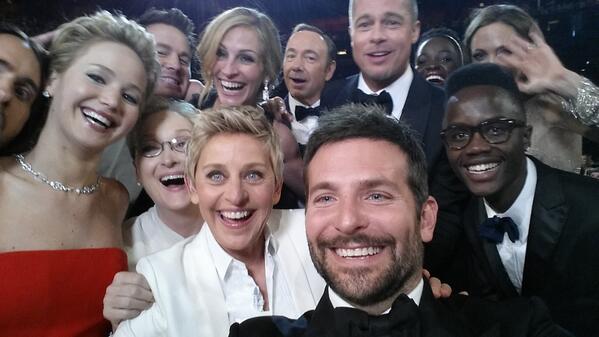 By Monday morning, the much talked about Ellen Degeneres selfie had been re tweeted over 2.7 million times and favored 1.4 million times. Effectively cementing the presence of the comedienne and that of Hollywood as a kind of untouchable tour de force.
The selfie, described as the best photo ever (I'm not sure why but that's what the media reports insist) was taken by  Bradley Cooper, and would feature Cooper, Ellen Degeneres, Jennifer Lawrence, Meryl Streep, Kevin Spacey, Brad Pitt, Lupita Nyong'o (plus her brother), Channing Tatum, Jared Leto (kind of), Angelina Jolie and Julia Roberts. Others (Liza Minelli bless her soul) tried to squeeze in, but couldn't make the frame. Oh well , now you don't matter.
The previous record holder from President Obama that simply read 'Four more years,' garnered 778,801 retweets.
It should go without saying that the selfie was probably part of a promotional stunt for Samsung, who paid big bucks to be a major sponsor of last night's ceremonies, as the selfie was taken with her Samsung Galaxy Note 3, a device which Ellen Degeneres conveniently whipped out at various stages during proceedings.
Trite, cliche and bordering on the pedantic and commercial, Ellen Degeneres selfie did do a couple of things, it humanized the elite that were being celebrated as well as re affirmed that Hollywood and its elite cast matter, more than ever even if in a goofy kind of way…