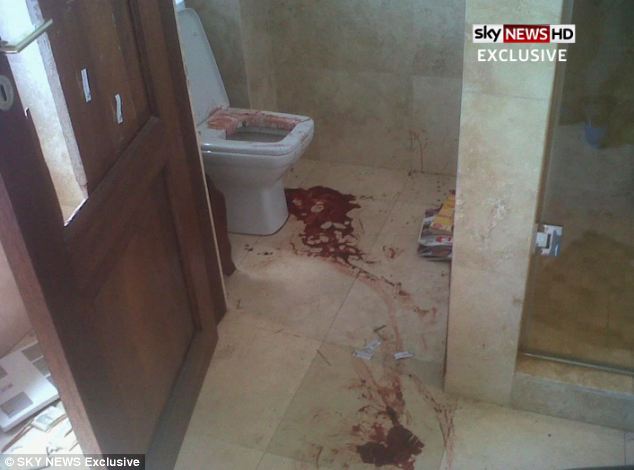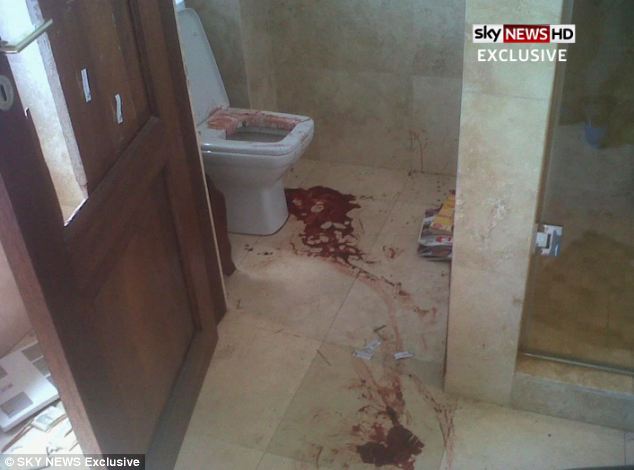 Making gory media rounds this Friday morning is the first time released image of the blood splattered bathroom where South Africa's Oscar Pistorius shot dead his high profile model girlfriend Reeva Steenkamp.
The graphic image taken inside the Paralympian's sprinter's house in Pretoria, South Africa shows pools of blood covering the toilet and the floor of the room, with police tape marking the holes where the bullets flew through the bathroom door.
At the time, the murder send shockwaves throughout South Africa with many baffled and in disbelief that a national sporting hero could be capable of such a ruthless murder. The case which is currently set to go to  trial has led to deep soul searching as the nation is once again is forced to consider it's predominant violent state of affairs.
Oscar Pistorius upon his arraignment went on to vehemently assert that the shooting had been an unfortunate accident with him believing that there had been an intruder in the house while he and Reeva Steenkamp slept.
At present Oscar Pistorius is charged with premeditated murder with the shooting death of Reeva Steenkamp and is due to appear in court this upcoming Tuesday for a brief hearing having made bail earlier on account of a plethora of police blunders in the initial investigation.
At present extensive police investigation continues as the trial is set to take place later this year.
Oscar Pistorius' chances of bail rise after police blunders.
Reeva Steenkamp funeral held. Mourners outraged.
Oscar Pistorius breaks down in court. Bail hearing suspended.
Was Oscar Pistorius jealous of his girlfriend, Reeva Steenkamp's ex boyfriend?
Jealous? Did Oscar Pistorius try to use a cricket bat on his girlfriend Reeva Steenkamp?
Blade Runner nearly shot friend days before attack on girlfriend Reeva Steenkamp.
Blade Runner, Oscar Pistorius's girlfriend Reeva Steenkamp planned to deliver speech on abuse on day she died.
Blade Runner, Oscar Pistorius tried to revive dead girlfriend. On suicide watch.
Adverts and billboards featuring Blade Runner, Oscar Pistorius taken down.
Did Blade runner, Oscar Pistorius intentionally kill model girlfriend Reeva Steenkamp?