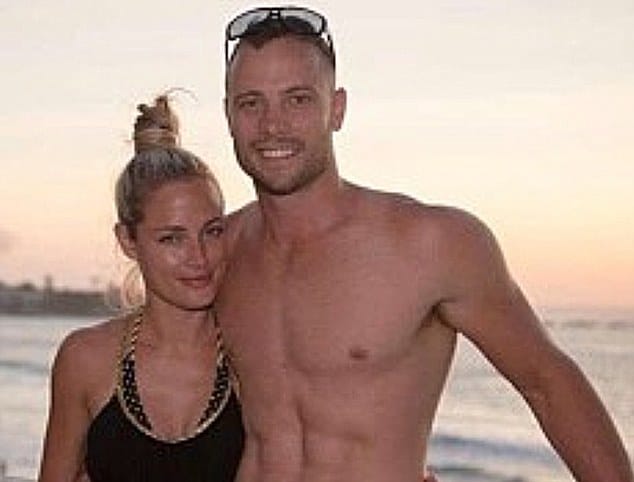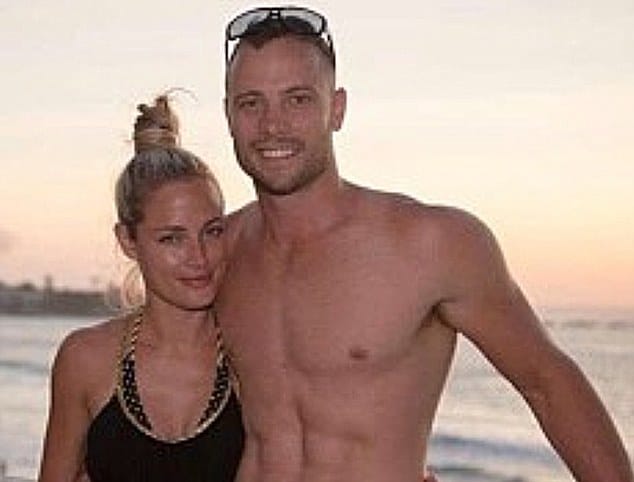 Oscar Pistorius' chances of bail rise after police blunders.
Reeva Steenkamp funeral held. Mourners outraged.
Oscar Pistorius breaks down in court. Bail hearing suspended.
Was Oscar Pistorius jealous of his girlfriend, Reeva Steenkamp's ex boyfriend?
Jealous? Did Oscar Pistorius try to use a cricket bat on his girlfriend Reeva Steenkamp?
Blade Runner nearly shot friend days before attack on girlfriend Reeva Steenkamp.
Blade Runner, Oscar Pistorius's girlfriend Reeva Steenkamp planned to deliver speech on abuse on day she died.
Blade Runner, Oscar Pistorius tried to revive dead girlfriend. On suicide watch.
Adverts and billboards featuring Blade Runner, Oscar Pistorius taken down.
South African authorities have arrested Paralympic superstar, Blade runner, Oscar Pistorius on charges of murder after an incident which left his his model girlfriend Reeva Steenkamp this morning dead.
The murder charges stem after Pistorius purportedly shot his 30 year old FHM model girlfriend four times the head, chest and arm inside his Pretoria mansion in South Africa.
The paralympic athlete insists that he confused Steenkamp for an intruder after he heard noises downstairs and subsequently went as he described it, in 'combat mode,' 'grabbing his gun and tiptoeing downstairs.'
Nevertheless authorities are resisting those claims telling reporters that officers had been called to his home before over "complaints of a 'domestic nature.'" Hardly the most report given that the two had only been involved with each other for just over 2 months.
Brigadier Denise Beukes said neighbours were woken by 'screaming and shouting' at the time of the shooting and police were 'very surprised' by the intruder suggestion, telling reporters: 'These allegations did not come from us.'
The UK's dailymail goes on to note that as recently as yesterday Miss Steenkamp spoke excitedly on Twitter about her plans for Valentine's Day.
She said: 'What do you have up your sleeve for your love tomorrow??? #getexcited #ValentinesDay'
Replying to a follower, she later added: 'That sounds amazing! Wow that's what it's all about! It should be a day of love for everyone 🙂 may it be blessed!'
Some observers have inferred the above to mean that she had a surprise waiting for  Pistorius and thus might corroborate his assertions that unbeknownst to him he had a sudden guest in the house. Although that too on the surface appears counter intuitive as Steenkamp was his only houseguest staying with him and would have reasonably assumed the sudden noise he purportedly heard was her.
Further negating Pistorius' assertion that he believed there to be an intruder in the house was the fact that there was no sign of forced entry and said the claim that Pistorius had thought his girlfriend was an intruder had not come from them.
Local papers also note an incident in 2009 where Pistorius spent a night in police cells after a woman complained to police that he had assaulted her during a party at his house.
The incident allegedly occurred at the same Silver Woods home as where Miss Steenkamp died.
Although Pistorius was charged with assault, he was eventually released with a warning.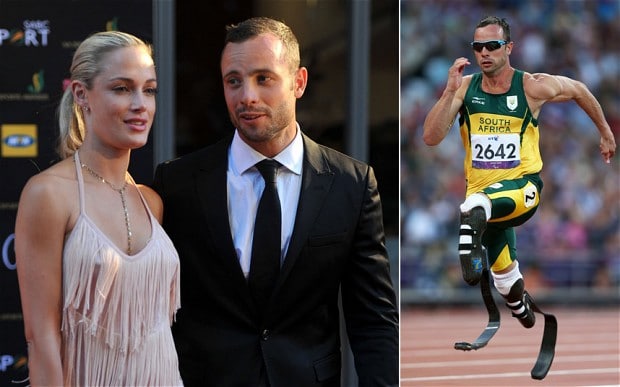 Underscoring the Olympic gold medal athlete's propensity for violence is also the following:
In an interview with the Mail before London 2012 it was revealed Pistorius slept with a pistol next to his bed, a machine gun by a window with a cricket bat and baseball bat behind the door.
'The problem is when the guards are in on the crime. It's usually safe in guarded estates like this until that happens,' he said.
In a later piece for the New York Times he took a reporter to the local shooting range to fire his 9mm handgun and two boxes of ammunition.
He admitted he would go shooting 'when I can't sleep' and an online advertisement featuring him for Nike read: 'I am a bullet in the chamber,' which was pulled from his website today.
Pistorius also posted a photograph of himself at a shooting range in November 2011 to the social media website Twitter, bragging about his score tweeting: 'had a 96% headshot over 300m from 50shots! Bam!' he tweeted. 
Another tweet shows his concern about someone breaking into his home, on November 27 last year he wrote: 'Nothing like getting home to hear the washing machine on and thinking its an intruder to go into full combat recon mode into the pantry! waa'.
Ironically Miss Steenkamp, a law graduate from Port Elizabeth, gave an interview to the Sunday Times in South Africa last week where she described her boyfriend as 'an impeccable man who always her best interests at heart.'
And perhaps underscoring any possible tension that the two may have had in their relationship with each other is the following:
Sarit Tomlinson, Steenkamp's publicist, told Sky News: 'She was the sweetest human being and an absolute angel on earth. She was the kindest, most unbelievable girl. 
'They had been together for a couple of months and it had been a healthy, fabulous relationship. At the moment it's shocking. No-one knows what's happened.
'She was a rising star. There was so much in the pipeline for her: she was just about to explode into the media.'
Could it be a situation that the Olympian was overwhelmed with his girlfriend's career trajectory whilst he feared the best had already come and gone for himself?
Pistorius won an individual gold in the 400m at last year's Paralympic games, and competed in the 4x400m relay final in the Olympic games a month prior.
A sports icon for triumphing over disability to compete with able-bodied athletes at the Olympics, his sponsorship deals, including one with sports apparel group Nike, are thought to be worth $2 million a year.
South Africa's M-Net cable TV channel went on to say at present it was pulling adverts featuring Pistorius off air immediately after blanket coverage of the arrest in a country more used to honoring Pistorius as a national hero. Or rather a tragic hero…