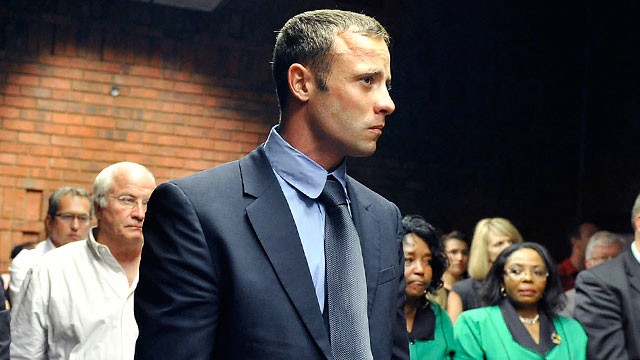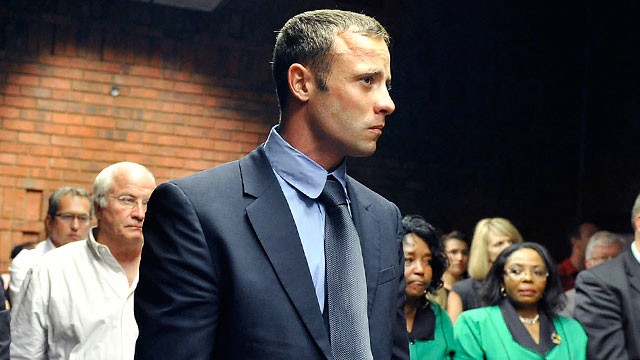 Reeva Steenkamp funeral held. Mourners outraged.
Oscar Pistorius breaks down in court. Bail hearing suspended.
Was Oscar Pistorius jealous of his girlfriend, Reeva Steenkamp's ex boyfriend?
Jealous? Did Oscar Pistorius try to use a cricket bat on his girlfriend Reeva Steenkamp?
Blade Runner nearly shot friend days before attack on girlfriend Reeva Steenkamp.
Blade Runner, Oscar Pistorius's girlfriend Reeva Steenkamp planned to deliver speech on abuse on day she died.
Blade Runner, Oscar Pistorius tried to revive dead girlfriend. On suicide watch.
Adverts and billboards featuring Blade Runner, Oscar Pistorius taken down.
Did Blade runner, Oscar Pistorius intentionally kill model girlfriend Reeva Steenkamp?
In a case that has riveted South Africa and much of the world, the court today heard conflicting accounts from police and prosecutors which had the effect of raising the chances that Blade Runner, Oscar Pistorius may now be offered bail.
Primary setback to the prosecution's efforts to deny Pistorius bail was an assertion that screams had been heard by neighbors between the hours of 2 and 3 am on the day of the murder of model and law graduate Reeva Steenkamp.
Under cross examination it was revealed in fact that the individual who purportedly heard screams was 600 meters away in Pistorius' gated community as opposed to a distance of 300 meters thus making it more dubious as if any screams could have been possibly heard.
When defense lawyer Barry Roux questioned warrant officer Hilton Botha,a detective with 24 years on the force, one of the first leading police investigators at the scene about 'banned substances'  purportedly found at the house it turned out in fact that the substances were a legal herbal remedy not a steroid.
Medupe Simasiku, the spokesman for South Africa's National Prosecution Agency, told The Associated Press that it was too early to identify the substance as it was still undergoing laboratory tests.
"It is not certain (what it is) until the forensics." Simasiku said, adding that it wasn't certain if it was "a legal or an illegal medication for now."
Roux nevertheless adamantly countered the substance found was a steroid but rather a legal herbal substance.
The defense went on to explain that the inference had been with the implication of banned substances in the house was to paint Pistorius in a negative light and to cast aspersions as to whether he may have used such banned substances during the Olympics last year.
Said Roux: "…police take every piece of evidence and try to extract the most possibly negative connotation and present it to the court."
International Paralympic Committee spokesman Craig Spence told the AP soon after the substance claims that Pistorius — the world's most famous disabled athlete — was drug tested twice in London last year by the IPC, on Aug. 25 and Sept. 8. Both test results were negative, Spence said.
Police also went on to claim fatal shots were fired downwards into the door, suggesting Pistorius had his prosthetic legs on, contradicting defendant's account. Nevertheless the defense went on to argue no evidence that Pistorius had attached his prosthetic legs before the shooting. Under cross-examination the officer leading the inquiry accepted this fact. A vital admission given that the prosecution has claimed the killing was premeditated because Pistorius took time to put on his prosthetic legs first.
Causing heads to further turn was how at one point Detective Botha  agreed with Roux that police had no evidence challenging the runner's claim he accidently killed his girlfriend in a bathroom, believing it was an intruder. An admission that hardly strengthened the defense's insistence that Pistorius be denied bail because of the possibility of flight.
In apparently damning evidence aimed at countering Pistorius's case for bail, Botha said he viewed the man who won two gold medals and a silver at London 2012 as a 'flight risk' pointing out he had not used any of the four telephones found at the house to call police and claiming his family had been searching for a memory stick containing details of off-shore bank accounts.
But Roux claimed the defence team had another phone in its possession that the police had failed to request. "Why did you not come to us and ask for Pistorius's cellphone number?" he asked.
Roux also took him to task for failing to check Pistorius's claim that he phoned the Netcare hospital at 3.20am.
Nevertheless the prosecution did land some blows on the athlete's character. Botha claimed that Pistorius was involved in another shooting at a restaurant in Johannesburg in January and, aware of the media storm that would ensure, asked the gun owner to "take the rap" for the incident, which he did.
Botha told the court of a further incident at a racetrack where Pistorius allegedly threatened to "fuck up" a man during a row over a woman.
After four hours of testimony, the hearing was adjourned until Thursday. It is expected to conclude this week, once the defense and prosecution have outlined their central arguments.
It may then be several months before a trial. If convicted of premeditated murder, Pistorius faces life in jail.
above image found here