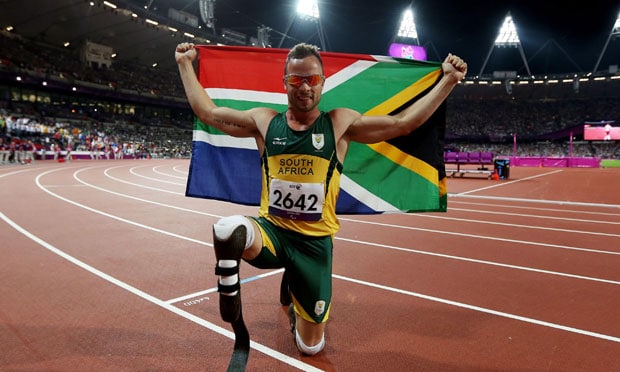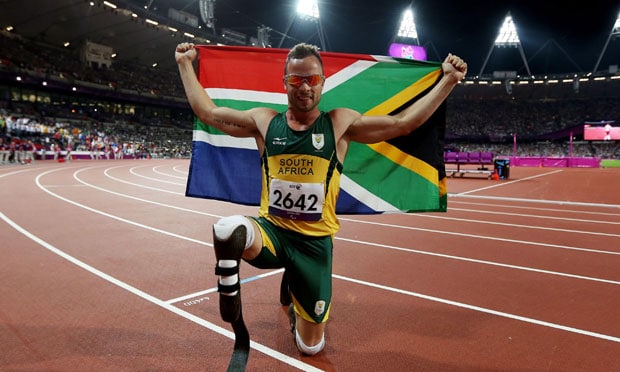 Oscar Pistorius' chances of bail rise after police blunders.
Reeva Steenkamp funeral held. Mourners outraged.
Was Oscar Pistorius jealous of his girlfriend, Reeva Steenkamp's ex boyfriend?
Jealous? Did Oscar Pistorius try to use a cricket bat on his girlfriend Reeva Steenkamp?
Blade Runner nearly shot friend days before attack on girlfriend Reeva Steenkamp.
Blade Runner, Oscar Pistorius's girlfriend Reeva Steenkamp planned to deliver speech on abuse on day she died.
Blade Runner, Oscar Pistorius tried to revive dead girlfriend. On suicide watch.
Adverts and billboards featuring Blade Runner, Oscar Pistorius taken down.
Did Blade runner, Oscar Pistorius intentionally kill model girlfriend Reeva Steenkamp?
The drama off the field continues….
As the world's eyes continue to focus on the case of South Africa's 'Blade Runner,' Oscar Pistorius, questions continue to escalate as to whether the national hero actually aspired to gun down his deceased modelgirlfriend, Reeva Steenkamp.
With mounting pressure on Pistorius and prosecutors adamant that Pistorius planned to kill Steenkamp, the former hero found himself crying uncontrollably in court today with the court forced to discontinue sessions as Pistorius plea for bail will now have to be heard another day.
Reports the UK's dailymail: In a statement read out to Pretoria magistrates court, the Paralympic athlete said he had been on the balcony of his house when he heard noises from the bathroom.
Believing his Reeva Steenkamp  was asleep in bed, he grabbed his gun, shouted a warning before firing four shots through the door, a judge was told.
It was only then, Pistorius claims that he realised Miss Steenkamp was not in bed. 
'I kicked the door open,' he said  'I tried to help her but she died in my arms.'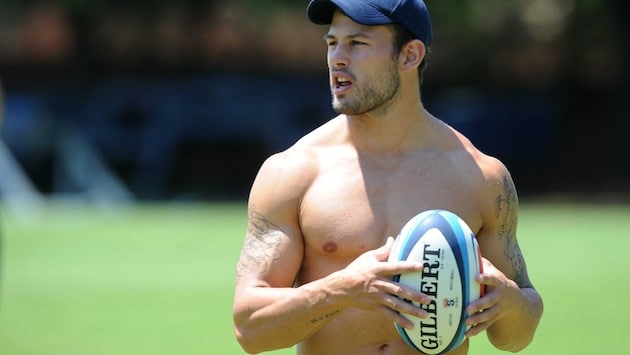 Nevertheless common wisdom is beginning to turn against the former hero as new evidence points to the more 'realistic' outcome that Pistorius followed Steenkamp to the bathroom after coming across a twitter message sent to her from her former flame, South African all round hero and hunk (according to his many fans) Francois Hougaard.
A cricket bat found with blood on it is complicating the assertion that Pistorius believed there to be an intruder in the house as it is now thought he may have used the bat on her or perhaps to break down the bathroom door or if in fact Steenkamp used it in an attempt to defend herself from purportedly irate boyfriend.
Pistorius went on to tell the court he was 'deeply in love' with his girlfriend and that she had bought him a Valentine's Day present.
In an affidavit Pistorius made the following statement below was read out by his lawyer.
'I fail to understand how I could be charged with murder, let alone premeditated murder because I had no intention to kill. I had no intention to kill my girlfriend Reeva Steenkamp.
Told a statement read from Pistorius' lawyer in court:
'I have been informed I have been accused of murder – I deny the accusation. Nothing can be further from the truth that I planned the murder of my girlfriend.
'On 13 Feb Reeva would have gone out with her friends, me with mine. She wanted to stay at home.
'I was watching TV. My legs were off. She was doing yoga. At the end of the evening we got into bed.
'I'm accutely aware of people gaining entries to homes to commit crime, I've received death threats.I sleep with my 9mm under my bed. I woke up to close the sliding door and heard a noise in the bathroom.
'I was scared and didn't switch on the light. I got my gun and moved towards the bathroom. I screamed at the intruder because I did not have my legs on I felt vulnerable. I fired shots through the bathroom door and told Reeva to call police.
'I walked back to the bed and realised Reeva was not in bed. Its then it dawned on me it could be her in there.
'I kicked the door open. Called paramedics and complex security. I tried to carry her downstairs for help.I tried to help her but she died in my arms.
'With the benefit of hindsight I realise that Reeva went to the bathroom when I went to close the balcony door.'
'I make this affadavit of my own free will and have not been influenced. Contents is true and correct.'
'I am an international sports star, I will not evade my trial. After the shooting I did not flee the scene. I remained until the police arrived.'
Countered Prosecutor Gerrie Nel who instead painted a picture of premeditated killing – a crime that carries a life sentence in South Africa.
'The applicant armed himself, attached his prosthesis, walked seven metres to the bathroom and shot the deceased while she was in the toilet. He shot four times…There's no possible explanation to support his report that he thought it was a burglar,' 
'If I arm myself, walk a distance and murder a person, that is premeditated,' he said.
'The door is closed. There is no doubt. I walk seven metres and I kill.'
'The motive is 'I want to kill'. That's it,' he added. 'This deceased was in a 1.4 by 1.14 metre little room. She could go nowhere.'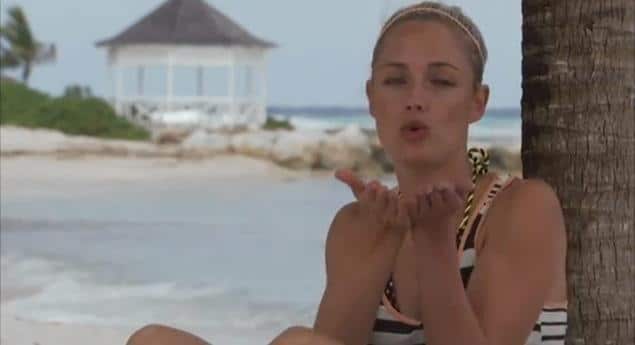 The case continues to vex the nation and the sporting world as doubts are now cast on the character of a national icon and by proxy the national character and general all round idolization of folk heros who may have troubling sides to themselves that in many ways echo the troubling wayward dichotomy of life in modern day South Africa which retains the highest murder rate in the world.
Tells the huffingtonpost: Outside the court, several dozen singing women protested against domestic violence and waved placards urging Pistorius be refused bail. "Pistorius must rot in jail," one placard said.
South Africa has some of the world's worst rates of violence against females and the highest rate in the world of women killed by an intimate partner, according to a study by the Medical Research Council. Another council study estimates a child or woman is raped every four minutes. While homicide rates have dropped, the number of women killed by current or former partners has increased, said the council's Professor Rachel Jewkes. At least three women are killed by a partner every day in the country of 50 million, she said.
Meanwhile close friends and family made their way today to the funeral of a much beloved national icon in her own right, Reeva Steenkamp. The drama and glamour could in many ways not be of the highest order in this forlorn nation bereft of glamour and worldwide pride that it so desperately seeks on a world level, having thought for a moment that it had attained as much when two of its icons for a whilst were had joined union.
Reflected espn: The Oscar Pistorius murder charge was a hard punch in the stomach to anyone who still believes in heroes — and another warning to those of us in the worldwide sports hero business. Because the distance he'll fall is exactly the height of the pedestal we built for him.
Just as there is in Hollywood and the movies and show business, in sports there's a global economy of mythic fictions. Sports runs on profitable illusions of heroism and goodness and wisdom, too. We just add statistics.
In the end, no matter what a court decides, Oscar Pistorius becomes another cautionary tale. And the last race he ever runs he runs forever, covering again and again the distance between the man he is and the hero we wanted him to be.
top image found here.
And then there was this comment on the web that made me wonder as well:
Even in gun totting USofA citizens are only entitled to shoot an intruder dead as an act of self defence, and then only after yelling out a warning that they have a gun.
An intruder can not be considered a threat if they are 'contained', and therefore a justification of self defence wouldn't hold water in this case.
Pistorius knew there was someone contained behind the locked bathroom door. He put his legs on, walked over to the door, and shot through it to kill the person inside.
As such Pistorius committed premeditated murder regardless of the identity of his victim.
I doubt that South Africa is much different. The Firearms Control Act of 2004 restricts South Africans to one gun, either a handgun or a shotgun in the home, and only to be used – as in the US – for "self-defense".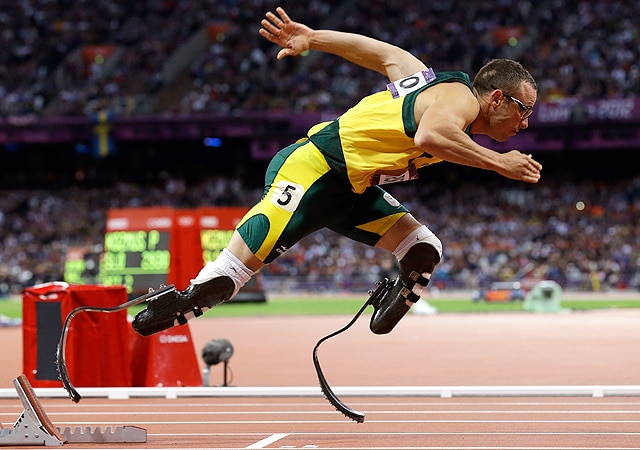 above image found here