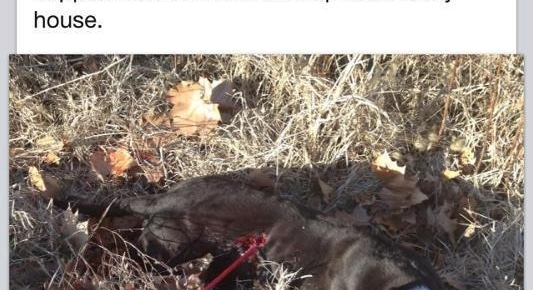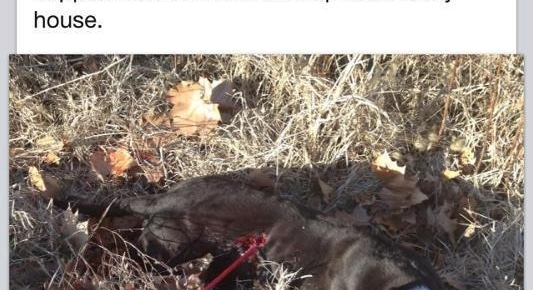 18 year old teen Caisen Green of Tahlequah, Cherokee has found himself in the untenable position of having to leave town after he posted a disturbing image of a of a dog he shot with an arrow on Facebook.
It is said the posting led to a multitude of complaints and even death threats against the teen.
Tells the UK's dailymail: The photo, which has since been taken down – along with Green's Facebook page – shows a pit bull with a long red arrow through the animal's abdomen with the caption: 'For all you Pit lovers out there. Here's what happens when one shows up around my house.'
The image quickly sparked the ire of the internet, with Facebook users from all over the world having their say.
Told Cherokee County Undersheriff Jason Chennault to the Muskogee Phoenix: 'One of the patrol deputies called me and wanted me to know about it. I met him at the sheriff's office and he showed me the picture.'
When Chennault went to speak to the teen his father told him that he had already left town after receiving an avalanche of death threats.
Asked if a crime had been committed Chennault offered the following:
'It's a gray area. If the dog is threatening livestock or your well-being, you can do what you have to do stop it. I'm going to do my best to get everything done this week.'
Added Chennault:
"I understand people don't want to see animals hurt," Chennault said. "But death threats are not going to help the situation."
Little is known about the dog – including its owner – but Lou Hays, a local Humane Society board member, told KJRH-TV that the dog's death was likely very painful.
"For someone who loves pit bulls to have somebody say, you know, 'This is for all you pit bull lovers. This is what happens when a dog shows up on my property,' it just outraged me," she said.
Told Hays to media outlet kjrh: the bad reputation that has accompanied pit bulls for so long led to the demise of this dog. Both said no dog is innately aggressive and that it depends on how one raises a dog.
Both say punishment in the form of jail time would do nothing to correct Green's view of pit bulls or help restore the reputation of the breed. Instead, they ask that Green, if he is to be punished, work at the pit bull shelter with the dogs for an extended period of time.
"It would be better for him to have to work community service, maybe 100 hours in a facility to where he can learn and be around people who love dogs and understand dogs lives," Hays said.
"If he had any kind of punishment, I'd like to see him have to work with the pit bulls. I think it would change his mind– how he feels about the dogs, if he would just get close to the dogs."
It is also understood shortly after the picture was posted, a Facebook page was set up to 'raise awareness' for animal abuse. It has received more than 2,400 likes.
On Sunday, a dueling page was set up entitled 'Caisen Green is a True American Hero.'
At present a petition has also been started for the teen's arrest.
Reflected one commentator on the web:
It takes a pretty sick person to do what he did. He needs more than community service, that's for sure! And if he does this Service, he needs to be closely watched around the dogs. He needs mental health treatment. He should never be allowed to ever have ANY dog, He should get fined and do some time in jail as well. He shot that poor dog with and arrow and just watched it die in agony. He shouldn't just get off with a slap on the wrist. This whole thing makes me sick!