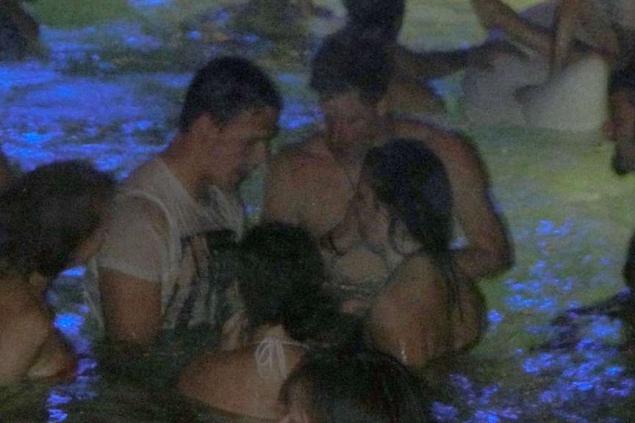 Naked Prince Harry. Don't expect him to suffer any punishment…
Prince Harry naked photos. Rehabilitating an out of control prince and the public's teetering love affair with the Royal family.
Naked Prince Harry photos provoke the wrath of the Queen.
Naked Prince Harry now fleeing paparazzi…
Naked Prince Harry busted because of his very distinctive pendant.
Naked Prince Harry pictures all the rage at Las Vegas suite. Cupping his genitals…
This is how we do it…
Prince Harry  and Ryan Lochte would like to share with you the good shit…
Oh dear it seems that our collective hawt Prince, (he really should get a badge that says, 'forever devoted to all the heathens of the Western world) is back to his shenanigans with reports that our collective hawt aristocratic bixch found himself once again getting trashed and then challenging our new media whore on the horizon Ryan Lochte to a race, which sadly he lost.
dailymail.co.uk: Jumping into the water at 3am still wearing his jeans, Harry joked with Lochte before the U.S. athlete counted to three on his fingers – and the two set off for a breaststroke battle.
Unsurprisingly, Lochte won the contest, and raised his arms in triumph – turning to a good-natured Harry to give the royal a celebratory hug as 5,000 revellers looked on.
Hmm, 5000 revelers looking on? Looks like the Prince and Ryan got their monies worth (at this rate it's no open secret that these bixches would gladly pay fans to watch their antics).
The good shit followed earlier episode where the Prince was said to be hobnobbing with barely bikini clad vixens earlier in the day that suddenly went into gusto mode the moment the Prince stepped out in his red floral trunks and fedora hat to whisper sweet lust into their ears.
Don't you wish you were the free Prince of the Western World too? I know I do…
Oh look! There's Prince Harry staring at a harem of bikini clad beauties at Las Vegas pool.
Ryan Lochte makes a talentless hawt bixch cameo on 90210. Nevermind he's got perky nipples…
Sorry but Ryan Lochte can not sell women's fashion. Vogue cover worst seller all year.
Ryan Lochte would like to explain why his mother doesn't understanding how he goes about his 'one night stands.'
Fashion photos of Ryan Lochte. Stylish hawt bixch if we dare say so.