Prince Harry naked photos. Rehabilitating an out of control prince and the public's teetering love affair with the Royal family.
Naked Prince Harry photos provoke the wrath of the Queen.
Naked Prince Harry pictures all the rage at Las Vegas suite. Cupping his genitals…
Naked Prince Harry busted because of his very distinctive pendant.
Oh look! There's Prince Harry staring at a harem of bikini clad beauties at Las Vegas pool.
Prince Harry and Ryan Lochte get drunk together and race each other in Las Vegas pool at 3am….
He'd rather not answer that question if you don't mind…
Prince Harry  just wants you to understand that he can't help being the royal jester…
Frankly we should all be used by now to seeing our collective hero, Prince Harry slum it as he sees fit (he is a royal after all and frankly he is entitled to anything his heart desires, sort of) but that of course doesn't mean we the public are prone to chaffing at the bit every time our collective hawt bixch out does himself. In part it is why we build bonfires of reverence of our collective hawt bixch and why we ruefully smile when the hawt bixch misbehaves. Frankly the way Jesus died for all our sins is the way Harry goes about creating sins, and who are we to begrudge our collective savior and purveyor of good looks and charm?
Cordoned by paparazzi at a Los Angeles car park (no one can ever escape the paparazzi, so a brave stoic expression is the preferred way to hint at penance and sorrow for ones awful deeds) the Prince was hardly in any mood to answer reporter's questions as to the tawdry evening that had our collective hero widely adulated for his photogenic feats.
At one point the Prince not to thrilled by the presence of a belligerent reporter made off in the passenger seat of a waiting vehicle (see royalty most certainly does have its privileges) where he hid his face. The presence of his six strong security staff also may have helped in deflecting further media probing.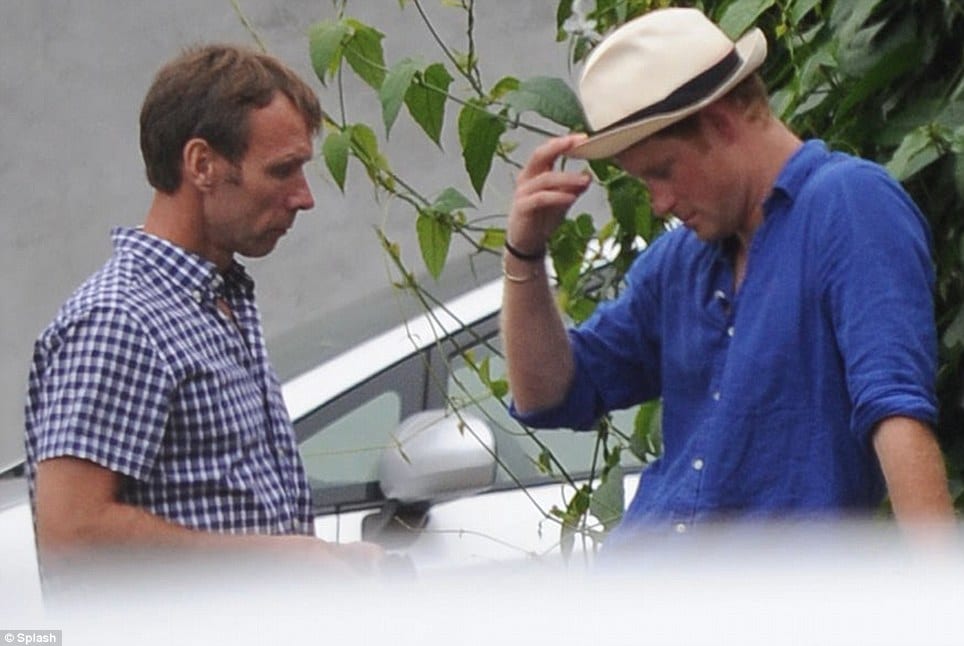 Then there's this too:
dailymail.co.uk: It is understood that the Prince's staff has spent the day locked in meetings about how best to handle the scandal as he flew back to Britain to resume his military duties following his 10-day break.

The images raise difficult questions about both Harry's judgement to indulge in the sort of wild 'laddish' behaviour that has brought the royal family into global disrepute.

And there are also questions about the whereabouts and behaviour of his taxpayer-funded protection officers who are assigned to him at all times.
Questions, thoughts, outrage and jittery fallout. Really? How about a slow summer August and a fervent desire to hang the Prince for simply being the sprightly chap that we have all come to expect him to be. Not to fear Harry, we'll be taking off our knickers and undies sometime later tonight for a bit of fun ourselves, just knock twice on the front door when you arrive. Hawt bixch…