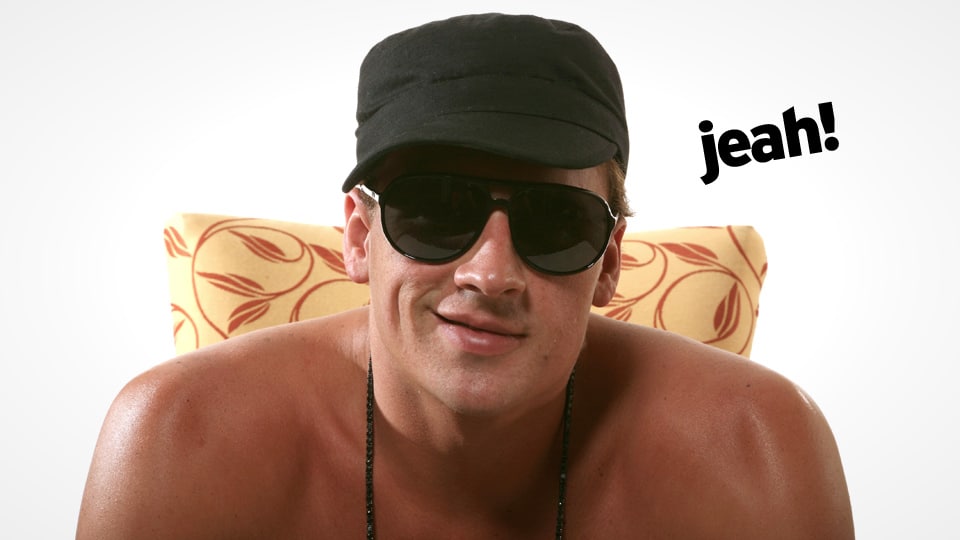 Since nabbing himself a hefty medal tally at the 2012 London Olympics, Ryan Lochte has rocketed in the public's consciousness. Part of it has to do with his killer swim strokes, his swagger attitude (bixch has invented 'jeah' as opposed to 'yeah') his killer  looks and of course his predilection for stylish accoutrements (yes gentlemen this is your cue to be brave as well) including, fancy bespoke outfits, diamond grills, bedazzled sneakers, and, yes, an LED name belt.
jezebel: It's only fitting that Ryan is well known for his kick, given that he designed his own pair of custom shoes for Speedo. Neon green, covered in rhinestones and complete with Ryan's signature exclamation "Jeah!", this footwear could have come from no one else.
Covered in Rhinestones? Now that's a preferred hawt bixch to go.
Then there's shit too that caught my attention too:
Ryan Lochte has 130 pairs of shoes that he keeps in a closet the size of some New York apartments. During an interview with John McEnroe that aired early in NBC's Olympics coverage, Lochte proudly showed his favorite pair of shoes — neon green monstrosities that say "Ryan" on one sole and "Lochte" on the other, so when he walks across the deck after it's been raining, you can see it was him.
That said, styleite have rounded up some images of our collective new hawt bixch for you to fornicate over. I've supplied some here, the balance can be found on their site.