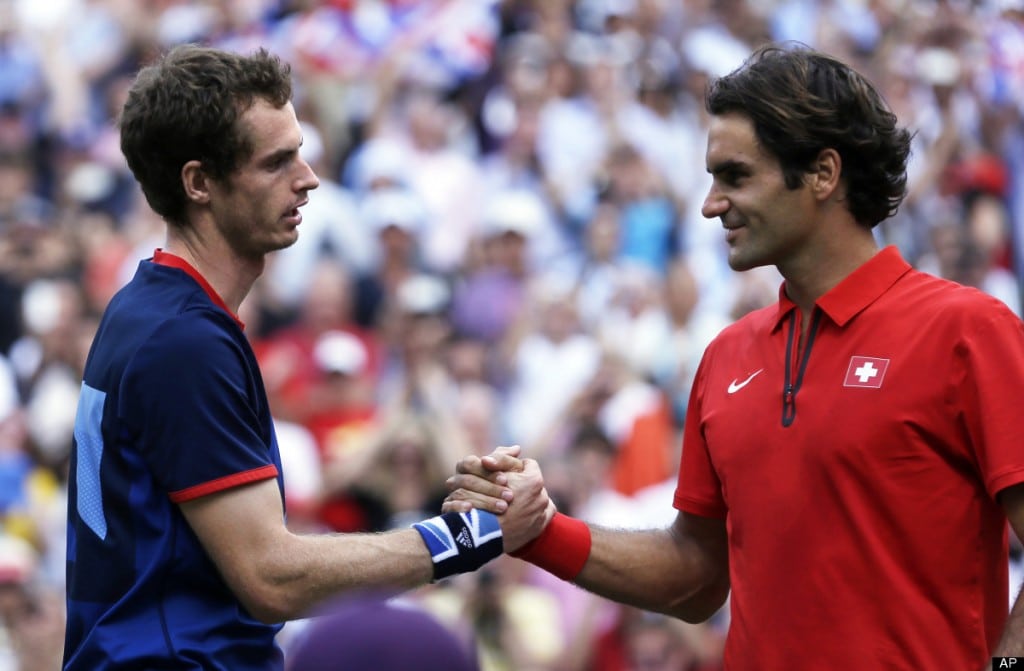 Andy Murray's girlfriend Kim Sears watches on as he wins an Olympic gold medal. She's a hawt bixch too….
Andy Murray can now hold his head high and accept that he is indeed a true champion. This off the back of the tennis pro's victory over long time nemesis Roger Federer who he was able to topple in a memorable game that saw the home champion win in straight sets in convincing and resounding fashion: 6-2, 6-1, 6-4.
The game was played at Wimbledon the same venue where coincidentally the Scotsman lost to the Swiss player last month which saw him exhorting in emotional overtures in front of a center court pitch who had come, no demanded that their local hero win. At the time he couldn't and to say that it devastated him and even left Federer feeling for him would be an understatement.
Yet today Murray can finally hold his own and accept that he is indeed a champion and to be respected and admired.
Offers AP: The result was a royal rout. Murray swept nine consecutive games, breaking Federer's serve four times in a row.
The victory marked a breakthrough for the Scotsman, who has lost all four of his Grand Slam finals, three against Federer.
For Federer, the drubbing marked another Olympic disappointment. Playing in the games for the fourth time, he sought a victory to complete a career Golden Slam but still earned his first singles medal.
From the start, there was no doubting fans' loyalty as the crowd waved Union Jacks throughout.
Was there ever a doubt who would win this game. Not on the Union Jack's life….
Victoria Beckham wasn't particularly impressed by the Wimbledon tennis thank you very much!
Andy Murray's girlfriend, Kim Sears cries along with her hero as he loses Wimbledon.
Video: Disbelief as Roger Federer beats shattered Andy Murray to win 7th Wimbledon title.
Kate Middleton and Pippa Middleton star at Wimbledon Final as they cheer Andy Murray.