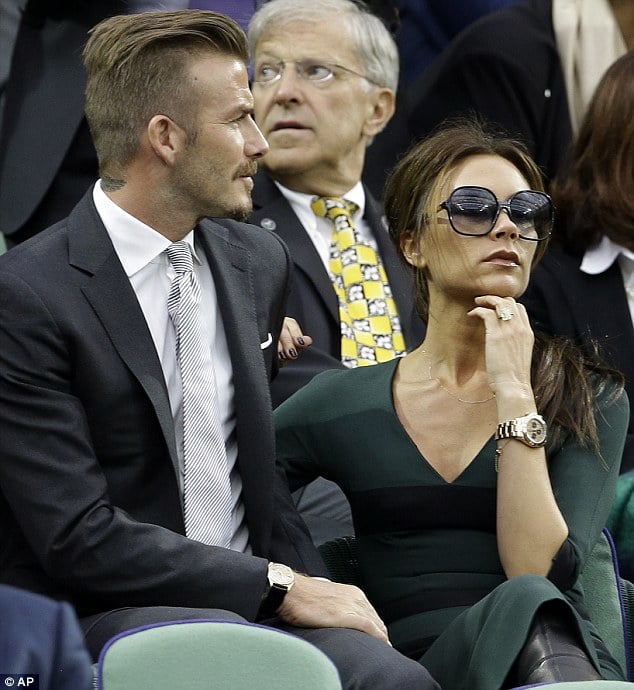 Oh dear it seems Victoria Beckhammay have found herself in a spot of bother this evening as it's been reported that she didn't necessarily behave like a very good sport in her much coveted (gratis) royal box seat. In fact according to witnesses and the camera man Ms Beckham seemed to have found the commotion between Andy Murray and Roger Federer somewhat dull and not particularly to her liking as she spent a great portion of her time instead playing with her cell phone, texting, relentlessly fidgeting and even taking extended trips away from the action only to return with a frowned expression as she desperately tried to feign interest.
Of course the above strikes us as beguiling given the fact that as the wife of one of the most popular footballers in the world (David Beckham did try to prod his wife's attention various times but to no avail as he looked on captivated)  one would suppose by now she would have learned proper on field etiquette. But at least to Victoria's credit we can report that her hair was impeccably blow dried. Never mind Victoria, we reckon you might get the hang of it by next year, assuming an invitation still comes your way.
Andy Murray's girlfriend, Kim Sears cries along with her hero as he loses Wimbledon.
Video: Disbelief as Roger Federer beats shattered Andy Murray to win 7th Wimbledon title.
Kate Middleton and Pippa Middleton star at Wimbledon Final as they cheer Andy Murray.