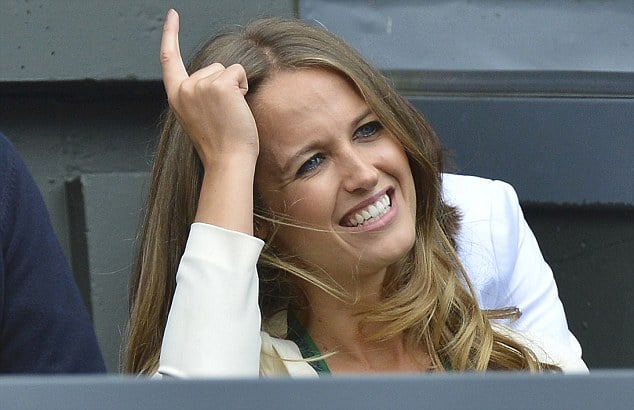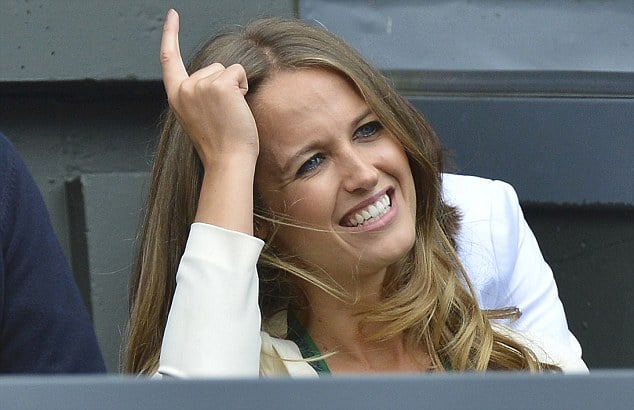 Andy Murray's girlfriend Kim Sears watches on as he wins an Olympic gold medal. She's a hawt bixch too….
Andy Murray finally beats Roger Federer. Wins Olympic gold medal.
It was probably one of the most heartfelt sights in Wimbledon in recent memory, the emotional capitulation of the crowd favorite, Andy Murray as he stepped up to make his runner up speech this afternoon after his gracious defeat to tennis great and legend Roger Federer.
Choking back the tears, Murray kept looking into the stands at girlfriend Kim Sears who he has known since she was 17 (she is now 24, Mr Murray 25) who returned his halting looks with her own tears. Who was even choking back tears herself was Kate Middleton who it seems was also overwhelmed by the moment and the implausibility that their hero just couldn't win the grand slam title today.
Throughout the match Kim Sears had a cautious strained expression on her face. Even when he won the first set she was sure to keep herself in check, consoling herself that there were 2 more to win, except those winning sets never came.
So dedicated is Ms Sears it is understood she has postponed her career as an actress simply to be an inspiration for him, traveling the world over with him for his meets. In fact it is said her glamorous company has done much to raise the image of a once volatile sulky teenager, she has even found herself now becoming a tabloid regular.
The couple are also said to share a house together at Oxshott, Surrey where they live in a 5 million mansion. Of course there was a lot riding on today's performance and had he won it could reasonably be said that he could have seen his fortunes quadruple to 100 million pounds. Something that may have to wait for now.
Victoria Beckham wasn't particularly impressed by the Wimbledon tennis thank you very much!
Video: Disbelief as Roger Federer beats shattered Andy Murray to win 7th Wimbledon title.
Kate Middleton and Pippa Middleton star at Wimbledon Final as they cheer Andy Murray.