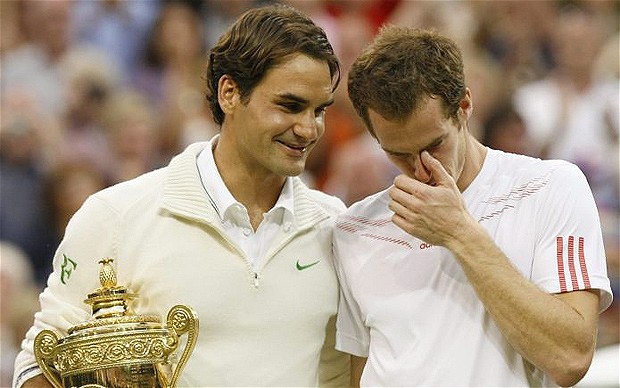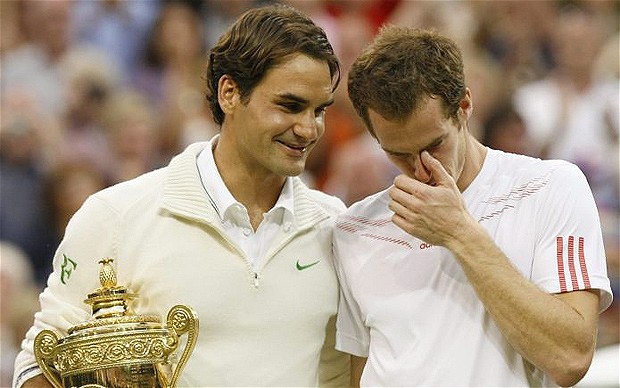 Andy Murray finally beats Roger Federer. Wins Olympic gold medal.
Andy Murray's girlfriend Kim Sears watches on as he wins an Olympic gold medal. She's a hawt bixch too….
Onlookers this afternoon were dealt a savage blow as UK crowd favorite Andy Murray was deprived of his first set win to lose 3 sets to 1 to Swiss competitor Roger Federer who after having not won a title in 2 and half years returns today as the world's number one tennis player. Indeed at age 30 Federer has won the most titles (a total of 17 surpassing previous records of 14) in the history of the sport.
With the decks fully aligned with Andy Murray supporters, many had hoped that the 25 year old Scott might bring honor back to Britain by being the first Brit in 75 years to win Wimbledon. With his 6-4 win in the first set tensions in the 15 000 plus center court were only too palpable. Then of course there was the ace of now being coached by former world great and Wimbledon alumni, Ivan Lendl.
Federer though not being overwhelmed after his first set win regained his composure to press forward and win the following 3 sets back to back showing why he is one of the master tennis players ever.
So anticipated was todays game with Murray for the first time in 4 years to get past semi final defeats to make a finals appearance that it is said court side seats were trading at $50 000 a pair. A heavy price one supposes to ultimately see the crowd favorite beaten, but at least Murray put up a stellar fight and can hope to learn from today's experience.
Offered a broken Murray, close to tears after the match:
 "[I'm ] getting closer. I'm going to try this and it's not going to be easy.
"Firstly I'd like to congratulate Roger… he's not bad for a thirty year-old. Congratulations, you deserve it."
Thanking his family and the fans, he said: "The support's been incredible, so thank you." 
Noted attendees at today's match included both Kate and Pippa Middleton at the Royal box with Prime Minister David Cameron, football hero David Beckham and his celebrity wife, Victoria Beckham as well as former tennis champions Roy Emerson and Rod Laver.
Despite Andy Murray's loss today one has to recognize that for the first time in a while the UK is really pulling its weight as a sporting nation and this can only be a good thing as it gets ready to host the Olympics. Of course that might not be much of a consolation to Murray who once again for the 4th time in a row has lost a grand slam title after at one point actually imagining he had this one in the bag…only to lose to Federer once again who has now personally denied Murray his 3rd grand slam title. Murray must be asking what it's going to take to break the spell….?
Victoria Beckham wasn't particularly impressed by the Wimbledon tennis thank you very much!
Andy Murray's girlfriend, Kim Sears cries along with her hero as he loses Wimbledon.
Kate Middleton and Pippa Middleton star at Wimbledon Final as they cheer Andy Murray.