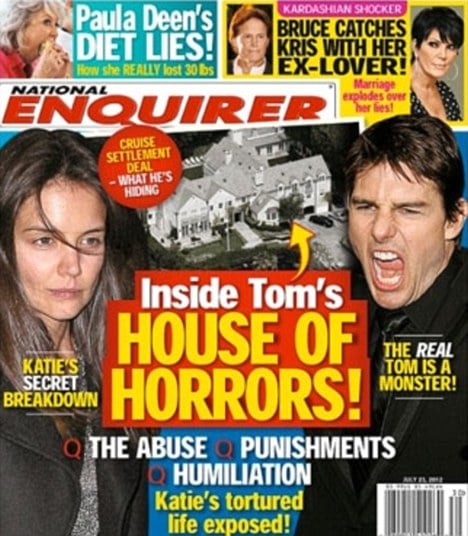 Looks like National Enquirer have stuck their nose in it a bit too far again, with the revelation today that actor Tom Cruise has threatened to commence a lawsuit against the journal's parent, American Media Inc for false and libelous allegations pertaining to his divorce with actress Katie Holmes.
In a statement republished by the National Enquirer (they must be loving all the attention) Cruise's attorney Bert Fields asserts the following:
'As you were notified in advance, your current issue of National Enquirer makes numerous false and defamatory assertions about our client Tom Cruise,' the three-page letter begins.
The letter draws attention to disparaging descriptions of Cruise in the Enquirer's issue that hit newsstands on Wednesday.
Fields wrote: 'These are all lies – vicious, hurtful, damaging lies.' 
"Your cover announces, as a fact, that 'THE REAL TOM CRUISE IS A MONSTER.' Mr. Cruise is certainly not a 'monster.' He is a caring father, a hardworking actor and, above all, an honest, decent man."
And then this comment that I came across:
Several decades ago the Enquirer got sued silly, since that time they are probably the most vigilant paper in the world when it comes to making sure they don't print anything that could cost them money. I would bet money everything they print is sourced and backed up to the point they are safe. I'm also wondering just how stupid the lawyer is for suing them… The only possible outcome is that the Enquirer fights back, which will mean issuing subpoenas, probably one to Katie which would then require to testify and negate any confidentiality agreement she had allowing her to freely tell all… not a good move by the lawyers.. a very knee jerk reactions that will likely end up with them being embarrassed even more.
And yet who can resist this off screen drama with its unique plot twists, he said, she said revelations, lurking Scientologists, mystery sightings, aggravated postures, trigger happy paparazzi, the disillusioned vixen, the oblivious mega star and the tarnished rumor monger all designed to keep us breathing hard, thrusting harder, reaching faster, believing louder, completely wrapped up in this too real made for tabloid Hollywood summer blockbuster….
Oh my! Did Katie Holmes consult Tom Cruise's ex wife, Nicole Kidman about her get away?
Katie Holmes in sexy Elle photo shoot prior to divorce hints at separation
Katie Holmes divorce: Church of Scientology denies it's watching Katie.
Katie Holmes divorce: Is she being followed by Scientologists?
Katie Holmes to divorce Tom Cruise, seeks sole custody of Suri