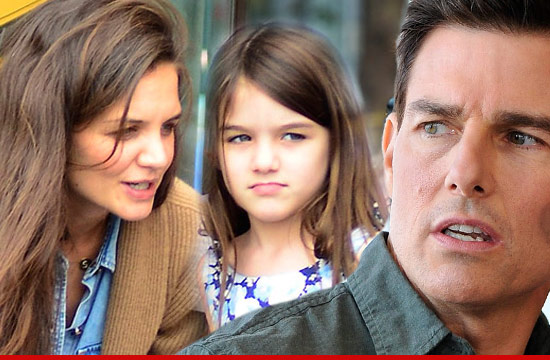 Katie Holmes divorce: Is she being followed by Scientologists?
Katie Holmes divorce: Church of Scientology denies it's watching Katie.
A thud in Hollywood has just gone off with the announcement that two of its major stars are to now no longer be one.
The break came after actress Katie Holmes sought divorce papers in NYC on June 28 on the grounds of 'irreconcilable differences,' and that she also obtain sole custody of Suri, their 6 year old daughter. The couple have been said to have been married for 5 years.
In her filing papers Katie Holmes has also sought 'suitable amount" of child support as well as a division of property this despite a widely known prenuptial agreement before the couple married.
Equally surprising is the fact that Tom Cruise is said to be, according to tmz, 'very sad,' (interesting) and that he had no clue this was coming, something that this author has a hard time believing given the on and off speculation that the actor wasn't really interested in his marriage (because the actor may or may not be gay, because his publicist no longer recommended the charade) and only propping it for fronts.
That said the dailymail.co.uk offers the following, what you the reader want to believe is your choice:
Sources have suggested that Tom's absence was started to take a toll on his family – and his young daughter's behaviour. 
'Suri misses her dad,' an insider told Star magazine recently, citing the girl's recent public outbursts as evidence. 
'She's a different child when Tom's around,' explained the friend. 'Suri was having a complete meltdown on a recent photo shoot for Katie until Tom stopped by unexpectedly. He picked her up and she was suddenly fine.'
Who kn0ws? Perfectly orchestrated pr stunt, genuinely disillusioned Katie Holmes, a contract that had outlived its shelf life, a lie that became too unbearable to continue or just another day in the lives of people who business it is to create fantasies whilst they live supposed fantasies lives when we aren't looking….
This would be the actor's third divorce, having previously divorced Nicole Kidman and Mimi Rogers his first wife.