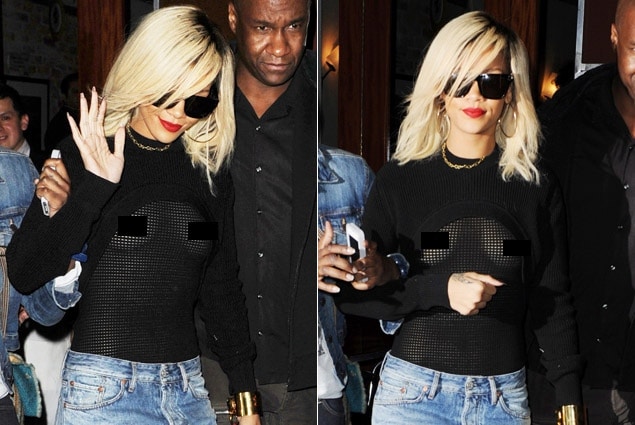 Yowza- showing off your assets will always get a media whore mileage.
Kids I have to admit I am awfully proud of our collective hawt bixch of the moment Rihanna. She has in the last couple of years and never mind the last couple of months where it's just set to auto media whore update been able to assuage our collective imagination. Never failing to miss a beat, our Rihanna can never turn down an invitation to shock or tempt us to think about her once again. So what new gimmick is it this week?
nydailynews: The "We Found Love" singer, 24, donned a sheer black mesh top that revealed her breasts and toned midsection, coupled with ripped, baggy jeans and chunky boots, as she headed to upmarket New York Italian restaurant Da Silvano.
The singer, who recently got into an online spat with ex-boyfriend Chris Brown's current squeeze, Karrueche Tran, looked smug with all the attention she was receiving from photographers as she dined with female friends.
Looked smug at all the attention she was getting? But then again wouldn't you too if your livelihood depended on seducing the average sucker fan to aspire to the vernacular that is called you? Then again who can put aside all the corporate sponsorship deals and concerts and record deals and whatever, blah that come along with over exposing an over exposed startlet? And then there's the media who get to blow up too writing over and over about the same meaningless topics and getting the average sucker to buy into the pedestrian foot massage called 'liberty.'
I know I'm in a foul mood today, but at least I have the decency to not concoct obvious attempts of getting the media's attention by stitching 4 by 3 squares over my nipples. But then again I'm not a media whore. I just write about them, which makes me and my peers even worse than the average media whore. But then again you bixches lap it up…
Never mind let's rejoice with one of my all time Rihanna fav video clips (yes bixches I'm a fan too). Who knows maybe one day it will be you walking around the street looking like a strung out media whore desperate for attention with the paparazzi desperate to kiss your ass, unless of course you already are…
Rihanna posts topless pic while dad backs off on calling her fat.
Rihanna targets Karrueche Tran with racial slur
Rihanna blows $24 000 just to fly in her hairstylist.
Rihanna bullies fan on Twitter, calls fan "ugly"
Chris Brown and Rihanna – skillful manipulators or just plain stupid?
Scumbag! Chris Brown accused of stealing girl's I-phone, could end up in jail.
Which bixch wants to tell you to F yourselves now that he has a Grammy?
Rihanna might be using you in her new TV fashion reality show. Bixch scores.
Rihanna tweets pictures of herself almost bare naked whilst working out.
Editor of Jackie Mag apologizes to Rihanna for calling her the ultimate 'niggabitch