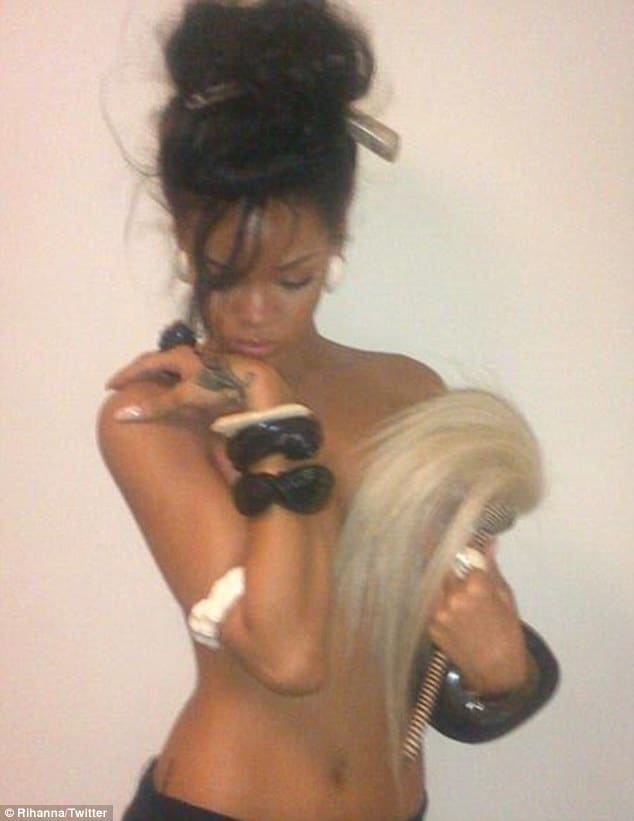 Looks like Rihanna may be having the last laugh after our collective hawt bixch posted a new photo of herself sans the blonde hair looking well perfectly scrumptious.
Of course questions have been raised as to the timing of the new picture.  Could it have anything to do with her ongong bixch war with  her ex boyfriend, Chris Brown's new girlfriend, Vietnamese model, Karrueche Tran to remind her that she's still the bomb or could it be a quiet fxck you to her dad who has been quoted in the press lately saying that he thought his daughter was somewhat fat when he last saw her?
Perhaps a clue as to the dynamics between Rihanna and her dad and for that matter why she has tolerated domestic abuse at the hands of her former boyfriend Chris Brown can be gleaned with an appreciation of her on and off tumultuous relationship with her dad. This includes her father's rampant past abuse of crack cocaine, domestic violence against Rihanna's own mother as well as bouts of absence from her growing up and Rihanna only having re-ignited her relationship with her dad as late as 2010.
Offered Ronald Fenty, Rihanna's father in a recent interview:
"Chris is a nice guy, and everybody's entitled to make mistakes in their life. God knows how many I've made."
Not only has Fenty tacitly prodded his own daughter to go back with her former abuser, Chris Brown he's also had a public go at her appearances. Hardly the things that would make him a front run contender for father of the year award:
"I actually thought she was a little fat the last time I saw her. When I saw her at this year's Grammys, I thought she was back to her normal size. I used to joke with her, 'Robyn,you're getting too fat.' But I think she's fine. I think she looked excellent, as everyone saw, at the Grammys. She's dieting, she's working out."
Rihanna for her part has remarked in the past that she never set to lose weight, a quiet acknowledgment of what her father has publicly stated but rather to simply own her curves and tone up.
Speaking to vogue last year she offered the following:
'For the first time, I don't want to get rid of the curves. I just want to tone it up. My body is comfortable, and it's not unhealthy, so I'm going to rock with it.
'
Either way, Rihanna is letting her recent recording successes speak volumeswithout degenerating to hostile back and fros that she is known for. Of course this morning's release of her topless and yes looking quite toned picture could quite possibly be her way of saying 'Fxck you.' But then again isn't that why we love our combative hawt bixch…?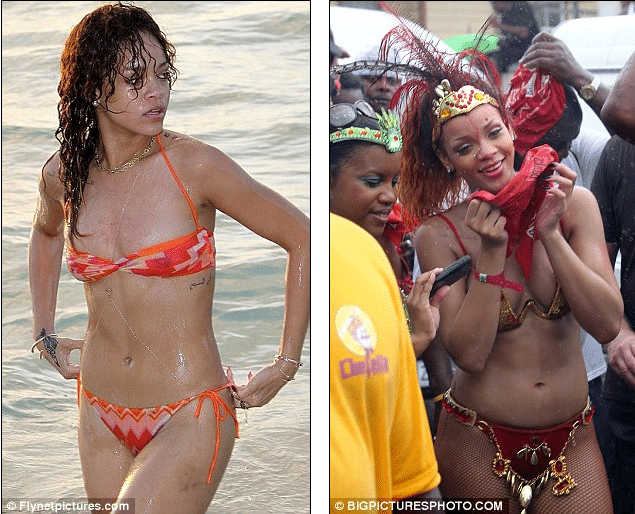 Rihanna targets Karrueche Tran with racial slur
Rihanna blows $24 000 just to fly in her hairstylist.
Rihanna bullies fan on Twitter, calls fan "ugly"
Chris Brown and Rihanna – skillful manipulators or just plain stupid?
Scumbag! Chris Brown accused of stealing girl's I-phone, could end up in jail.
Which bixch wants to tell you to F yourselves now that he has a Grammy?
Rihanna might be using you in her new TV fashion reality show. Bixch scores.
Rihanna tweets pictures of herself almost bare naked whilst working out.
Editor of Jackie Mag apologizes to Rihanna for calling her the ultimate 'niggabitch