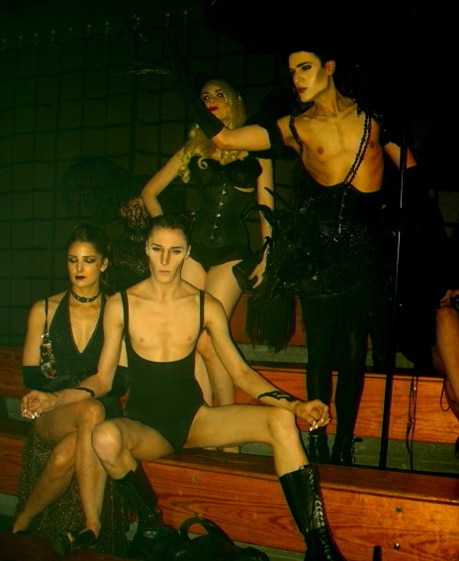 For those of you who can never get enough of Susan Bartsch and her 'trans-mazing' friends….
The is a new monthly party from SUSANNE BARTSCH and DESI MONSTER at the new Hudson Hotel hotspot GOOD UNITS – a top Fashion Week late-night extravaganza –  starring AMANDA LEPORE, BASIL TWIST, ENSUBTITLES, JOEY ARIAS, KEMBRA PFAHLER WITH THE GIRLS OF KAREN BLACK, NARCISSISTER, ROSE WOOD, THE DAZZLE DANCERS and YOZMIT.
Music is by JOHNNY DYNELL, MICHAEL MAGNAN and DJ WILL AUTOMAGIC.
Hosted by the clans of ALIEN NATION, GLITTER BOMB, UBERHOUSE (Featuring MUFFINHEAD and SHIEN LEE) and ZAND COLLECTIVE.
It will be a monthly haven for artful androgynists, futuristic fashion plates, and "it girls" of several scenes and genders.
Enjoy the pictures, we sure did- thanks Linda.- Scallywag.
Kenny Kenny and Susan Bartsch like to play with their Bon Bons.
A Night out with Kenny Kenny and Susan Bartsch. What's a Girl To Do
Kenny Kenny and Alanah misbehave….again.
Patricia Fields celebrates her Birthday, and they all came, including the Geisha Girls.